New and In Stock: Blade-Tech Industries Holsters and Acessories
Remember the Magpul Dynamics: Art of the Tactical Carbine I and II training DVDs? In the videos, both Chris Costa and Travis Haley were using Blade-Tech holsters for their Glocks (Tactical Carbine I) and their 1911s (Tactical Carbine II). Blade-Tech Industries is a famous Kydex and injection molded manufacturer for holsters, magazine pouches, and training accessories, operating since 1995. Blade-Tech Industries is located in Puyallup, Washington USA. They build their holsters, pouches, and other tactical accessories from start to finish in the United States of America and the products are some of the best quality that you can find.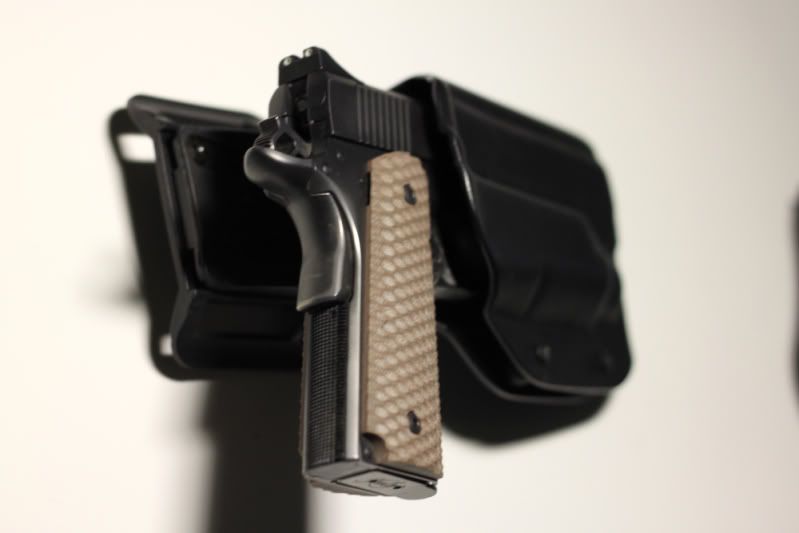 I have used Blade Tech Kydex holsters for my Kimber 1911 with the Surefire X300 before. The holster is sturdy and durable, because Blade Tech uses high quality and thick kydex. I loved the holster, and it makes a great direct action holster (meaning you wear a plate carrier and you are looking for trouble). Although my holster is an open top design, my Kimber 1911 sits firmly and securely in the holster without me worrying about it dropping out of the holster, even with me full on sprinting. There is a tension adjusting screw which can set the tension for the holster.
The magazine pouches from blade Tech are also as amazing as the holster. Just like the holster, the magazine pouch is open top, and the tension can be adjusted. The magazine pouches hold the magazine firmly and securely, but at the same time, the magazine comes out easily when needed.
What makes Blade-Tech Industries very unique is their mounting solutions. They have many different varieties of mounting solutions. There are different solutions such as the Belt Clip, Paddle, and Tek-Lok. The Tek-Lok is adjustable, and doesn't require the operator to remove the belt in order to to remove the Tek-Lok. The Tek Lok is mounted onto your belt securely, but it can also be removed easily by the operator. The Tek-Lok is also fully adjustable, which can be fitted onto different sizes of belt in today's market.
Below is the list of Blade-Tech items which are available at Airsoft GI. I am Andrew, Stay Safe, and get out and play airsoft.
Blade-Tech Industries Smart Phone Holster – iPhone 4/4s – Magpul Executive Case ( Tek-Lok )
Blade-Tech Industries Belt Klip
Blade-Tech Industries Large Tek-Lok with Hardware
Blade-Tech Industries Small Tek-Lok with Hardware
Blade-Tech Industries MOLLE-Lok Gen 3 ( Large )
Blade-Tech Industries MOLLE-Lok Gen 3 ( Small )
Blade-Tech Industries Revolution Double Mag Pouch with ASR for 1911 Single Stack
Blade-Tech Industries Revolution Double Mag Pouch with ASR for Generic 9/40 Mag
Blade-Tech Industries Revolution Double Mag Pouch with ASR for Glock 9/40/ATP
Blade-Tech Industries Revolution Single Mag Pouch with Tek-Lok for 1911 Single Stack
Blade-Tech Industries Revolution Single Mag Pouch with Tek-Lok for Generic 9/40 Mag
Blade-Tech Industries Revolution Single Mag Pouch with Tek-Lok for Glock 9/40/ATP
Blade-Tech Industries Revolution AR-15 Double Stacked Mag Pouch w/ ASR
Blade-Tech Industries Revolution AR-15 Mag Pouch w/ ASR
Blade-Tech Industries Revolution Holster for Sig 229R
Blade-Tech Industries Revolution Holster for Sig 226R
Blade-Tech Industries Revolution Holster for 1911 Fullsize
Blade-Tech Industries Revolution Holster for Springfield XD 9/40 5″
Blade-Tech Industries Revolution Holster for Glock 17/22/31/ATP