Article Giveaway!
It's simple, submit an airsoft article to us and we'll randomly draw a winner from the submissions to get FREE Stuff. The article requirements are as follows:
Subject/Title: Write about the tactical gear you use and why you use it.
Length: 400-500 Words
References: Link Products Discussed In Article
Deadline/Give Away Date: Sept 6th 2013
Reading Level: 12 Years Old
Format: Microsoft Word .doc OR Equivalent
Prizes:
• D Boys MK17H Airsoft Gun (Black)
• Defcon 500D Wardog Pack (Tan)
• ICS Polo Shirt
• ICS Upgrade Kit
• Airsoft GI Swag Set
Submit to: [email protected]
Info to Include: Full Name, Address, Phone Number, Article with Reference Links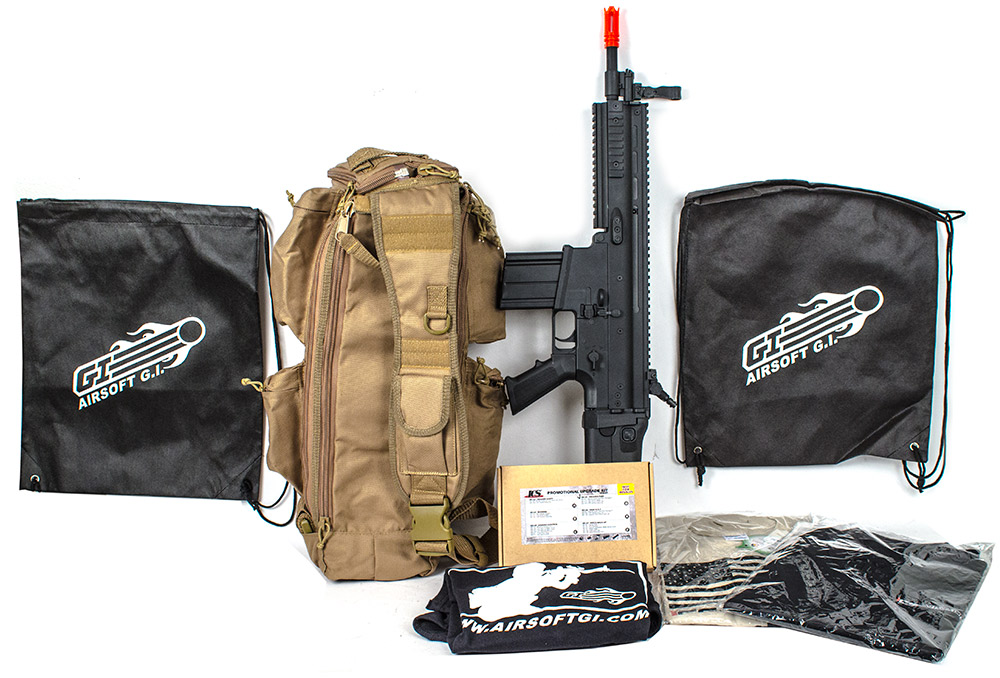 Submit your articles to [email protected]. Below is a sample article that you can use as a guideline for what we're looking for. Take a few minutes from your day to construct a review about your tactical gear and we'll select a random participant to receive a care package with a bunch of cool stuff. We're looking forward to seeing your submissions. Good Luck!
Sample Article (for reference only):
Pantac USA 1000D Cordura Molle Tactical Plate Carrier
What drew me to the Pantac USA 1000D Cordura MOLLE Tactical Plate Carrier was fact that it was a very durable plate carrier for less than 80 dollars. It is based off the Diamondback Tactical Generation 1 Fast Assault Plate Carrier, which has seem use by PMC units all over the world. I've used all sorts of "lower end" tactical gear and all that ended up tearing or breaking in one form or another. However, that was all I could really afford at the time. Being a poor college student with little to no spare cash is not easy!
One thing that is great about Pantac is that, while most of their products are replicas, they are extremely high quality replicas. Made of 1000D Cordura, and with a lifetime warranty, these are some of the most durable plate carriers anyone can find on the market and at a reasonable price as well! Many of their products are great replicas that are a fraction of the price of the real thing, and yet almost just as sturdy.
My favorite thing about this plate carrier is that it is a no-nonsense simple carrier that is durable, low profile, and has enough MOLLE webbing to fit all the essential things I need. This plate carrier fits standard 10"x12" Medium SAPI plates, which I've also picked up from Pantac. These plates come in sets of two, and fit perfectly inside of the plate carrier. The rigidity the plates provide really makes this load out feel very authentic. The front end of the plate carrier has just enough webbing to hold triple Blue Force Gear Helium Whisper Pouches, which are extremely lightweight and low profile (See the theme I'm going for here?)
Another thing that drew me to this particular plate carrier is the lack of cummerbunds. I generally prefer to run a war belt, and having cummerbunds makes it difficult to access my side pouches. This plate carrier instead has solid ITW buckles which frees up that area for me to be able to access my belt compartment quickly. This also makes putting on and taking off the plate carrier very easy, as all it requires is a simple buckle snap and that is it.
For 80 dollars, this plate carrier will work in many circumstances. It is durable enough to use as shooter training gear, and it is lightweight enough to use for high speed CQB airsoft action. I have been very pleased with this plate carrier, and will continue to recommend it to any of my friends.
References:
Plate Carrier: http://www.airsoftgi.com/product_info.php?products_id=13469
Blue Force Pouches: http://www.airsoftgi.com/product_info.php?products_id=10427
Replica SAPI Plates: http://www.airsoftgi.com/product_info.php?products_id=14111