Why you should use Gryffon Gear…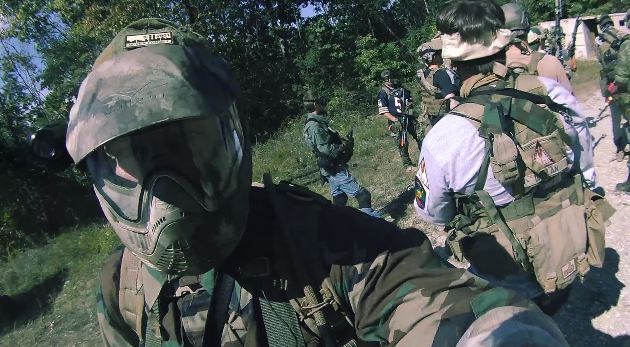 I've been working at AirsoftGI for over 4 years now and there is one question that I've been getting asked more and more recently and it generally goes something like this, "Bob I know you have a lot of stuff to push but do you really believe in [Blank] ?"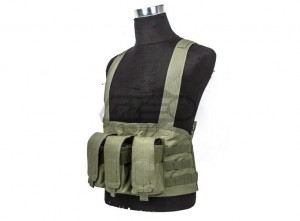 Now, one of the great aspects of working here is that I get to try out a lot of products that we sell. This allows me to do better reviews and educate our customers in a much more profoundly. That's where the Gryffon Golem Chest rig and Dragonspine belt system come in.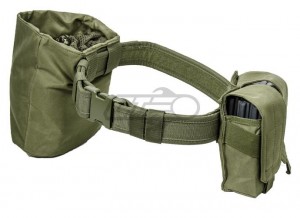 These two Gryffon products looked, on the surface, like one of the best deals we'd ever had going on at Airsoftgi.com. For $15 you can either get the Golem chest rig that can hold 9 STANAG magazines or 6 AK magazines in addition to having MOLLE real estate on either side as well as an incredibly large map pocket that you can stow maps, beef jerkey, bubble gum, or any other number of airsoft necessities. On the other side of the coin, you can spend $15 to get the Dragonspine belt system that is essentially a tactical belt that includes a dual magazine pouch that can fit at least 4 STANAG mags in addition to a wide variety of other magazines as well as a dump/recovery pouch.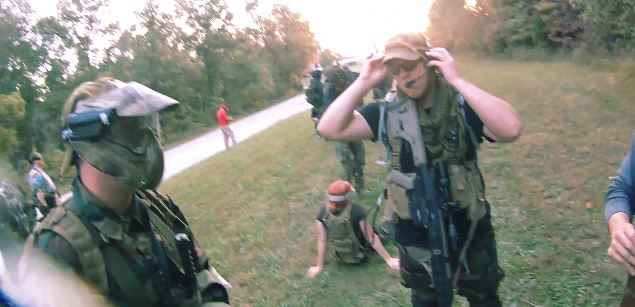 Both of these items are great deals for the price, especially when you consider that $30 gets you everything you are absolutely going to need on the airsoft battlefield. But the real question is how well do these perform in the field and that's exactly why I decided to take a set of Gryffon gear to Operation Irene held at Fort Knox, KY.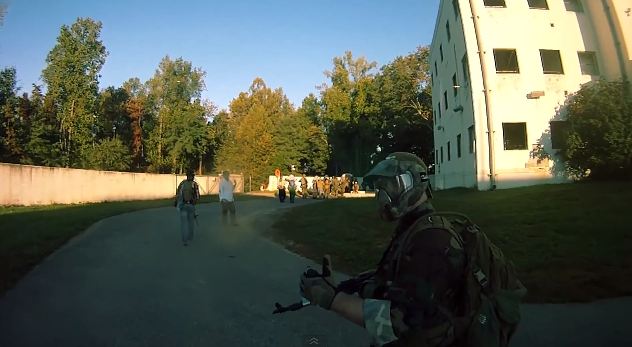 Operation Irene is considered by some in the airsoft community to be the Super Bowl of airsoft, bringing in individuals and teams all across the country to play at a world class Special Forces training facility. As such, I thought this would be a great opportunity to test out some gear that I thought might not stand up to the task. Boy was I wrong…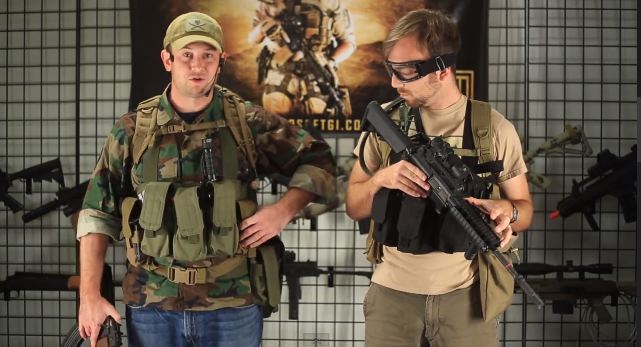 When I setup my Golem Chest rig there were a few things that I wanted to put on there in addition to my 6 AK magazines. I wanted to put a holster on there as well as a radio pouch. In my line of thinking, if I could get my extra rifle mags, sidearm, and communications equipment on this one chest rig then I would be set as far as my combat load was concerned. As you can see in the picture below I essentially used two extra double M4 mag pouches as both a holster for my pistol as well as a pouch for my radio and both worked incredibly well. I was also able to put beef jerky, bubble gum, and even my rubber knife in the map pouch. In addition to this, I used the Dragonspine belt system for the dump pouch mainly but also so I could put a speed loader and bottle of bb's in the included belt-mounted magazine pouches.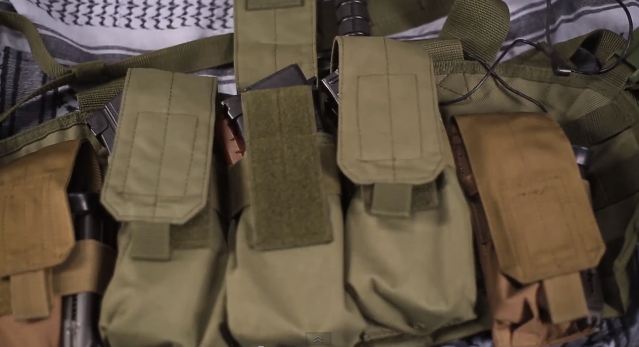 Having done all this, I could then concentrate on my support load, which was made up of all the things I was going to carry for my teammates in case we need it on the field. These items included extra bb's, gas, duct tape, electrical tape, tools, dead rags, hydration bag, extra water, and camo netting for an improvised sniper hide. That said, I was carrying a fair amount of equipment, while at the same time not really using a whole lot of gear.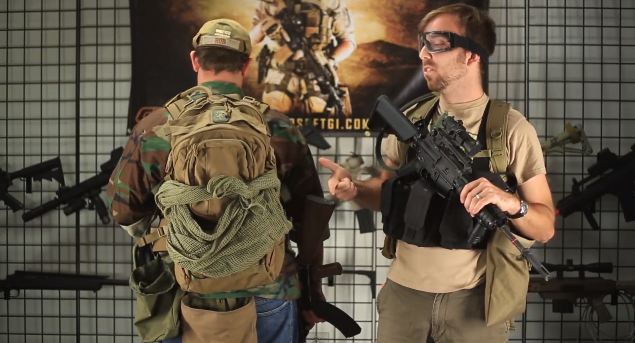 Carrying all of this gear leads me to my next point about the Gryffon Golem chest rig in particular. The fact that they manufactured this chest rig with extra wide shoulder straps cannot be overstated. The wide shoulder straps help prevent the chest rig from digging into your shoulders, and disperses the weight over a much wider area, thereby increasing the how comfortable this rig is by quite a bit.
In the photo above, you can also see Ross our "Preditor" (Producer/Editor) rocking a Gryffon Golem chest rig in black and his is setup a bit differently than mine. He put two magazine pouches on his right side and wove in a dump pouch on the lowest row of MOLLE on his left side. This is mainly because he doesn't like have to move his arms very far to transition mags from his gun to to dump pouch and back. In my opinion, it's a unique setup that seemed to work out really well for him.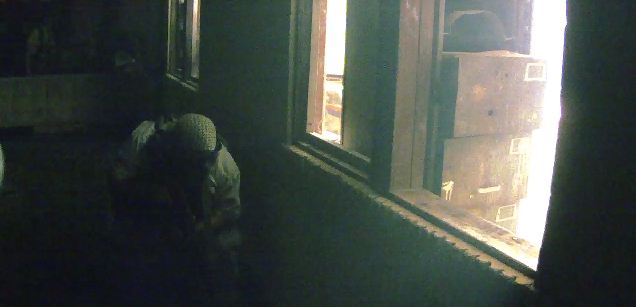 Over the fun-filled adrenaline-pumping weekend that is Operation Irene I honestly couldn't think of anything negative to say about the Golem chest rig other than that I wish it came in A-TACS. The Dragonspine belt system is great, but if I only had to choose one I would go for the Golem Chest rig. I say that almost completely out of personal preference because I really like chest rigs.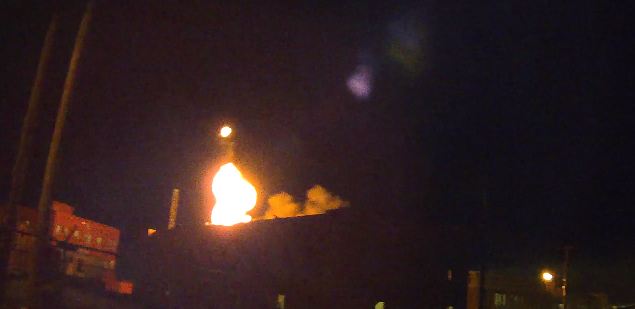 In summation, if you are looking for a new set of gear that won't break the bank or you need an affordable set of gear that your friends can use, I would HIGHLY suggest the Gryffon Golem Chest rig and Dragonspine belt system! Links for the products on AirsoftGI.com can be found below.
Gryffon Products on AirsoftGI.com:
Gryffon Dragonspine belt system
Tactical Gear Heads and Gameplay video from Operation Irene:
-Bob Hildebrand