Two Gun Combo Deal at Airsoftgi!
Airsoft GI is always looking for more ways to save you money. So, we have devised a fantastic combo: an AEG paired with the popular tri-burst shotgun! This shotgun will fire three BBs with one trigger pull. The best thing about this shotgun though, is how effective it is as backup airsoft gun, because it does not rely on batteries or gas in order to function. So, when everything goes down at the field, you can still use it as long as you've got BB's to feed it. The key with this combo deal, is that we are offering both guns at a package, with a price listing that saves you close to $40. That's over half the price of the shotgun!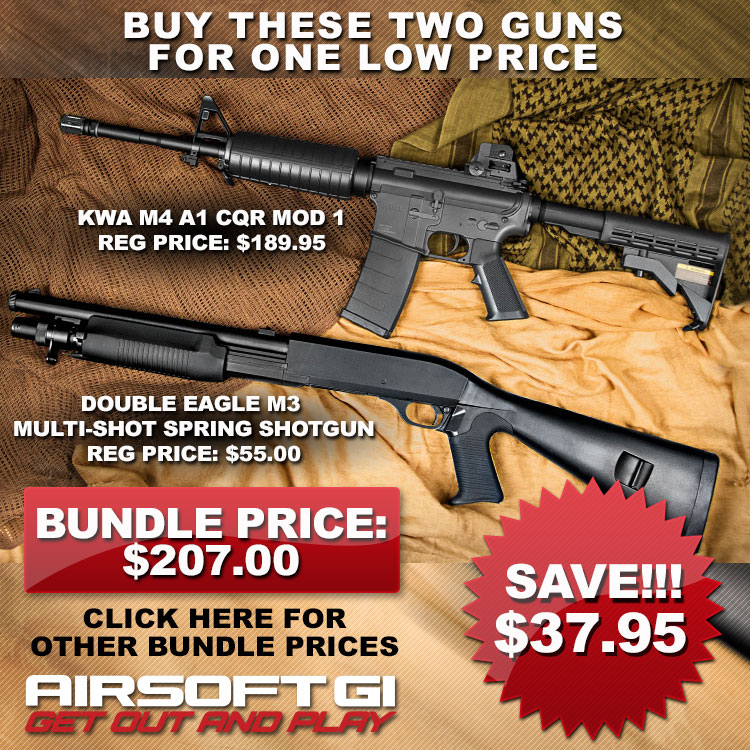 Now, these shotguns will be paired with an AEG, G&G's Combat Machine Line, KWA's CQR Line, and Umarex's 416/417 Line. All of these airsoft guns are rock solid, reliable, and great choices for both beginner & veteran players. We offer many choices to suit many players out there. If there is a gun that you wouldn't mind seeing as part of a package deal, let us know in the comments below!