Field Chatter | ARP9 for new Best SMG
The ARP-9 by G&G Armament occupies an interesting space in the airsoft market. It is designed to offer close quarters battle options to players who want the ergonomics of an AR-15 but don't want to own "just another M4" while simultaneously trying to combat the more expensive offerings from competing brands. This gun was one of the stand-out new showings from G&G at SHOTshow 2017 as well, garnering a ton of hype and curiosity, but just how good is it? How does it compare to some of its direct competition? We had to know, and we think you'll be pleasantly surprised.
Before we get into the nitty-gritty, let's take a closer look at what makes the ARP-9 tick. On the outside, it is a polymer bodied gun featuring a metal M-LOK rail and a collapsing wire sock. The receiver resembles that of an AR-15 style platform, while utilizing a smaller magazine well to fit its 9mm pistol caliber carbine styled magazines. The shape and design of these is very reminiscent of designs coming out of real steel manufacturers like Palmetto State Armory and Wilson Combat, who are popularizing the pistol-caliber AR15 within the firearms community at large. This provides several advantages to avid AR15 aficionados as the ergonomics and controls are very similar, with only the magazine release being different, in the case of the ARP9. It differs in this situation utilizing an ambidextrous lever similar to an AK or a G36 pattern rifle as opposed to the often less lefty friendly button of a standard M4 pattern gun.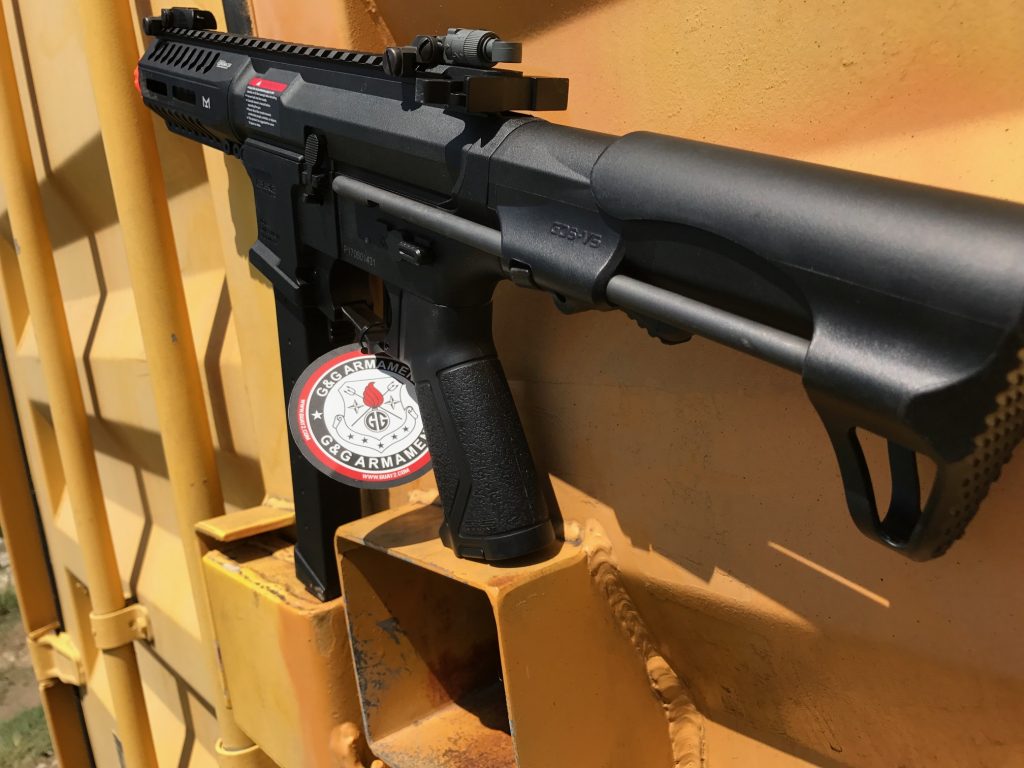 Internally, the ARP9 features G&G's newest gearbox design and their pre-programmed MOSFET chip, capable of letting this gun rip on full auto, or three round burst, depending on how you configure it. The electronic trigger unit kept it snappy in semi automatic as well. The trigger has a long takeup before it closes the circuit, however, follow up shots do not require a full release of the trigger, so skilled shooters who can ride the reset distance of this trigger can really hammer out rapid fire shots in semi-automatic mode, allowing you to maximize your effectiveness if you find yourself rules-restricted to semi-only for any reason. All of these add up to a gun that will dominate in CQB.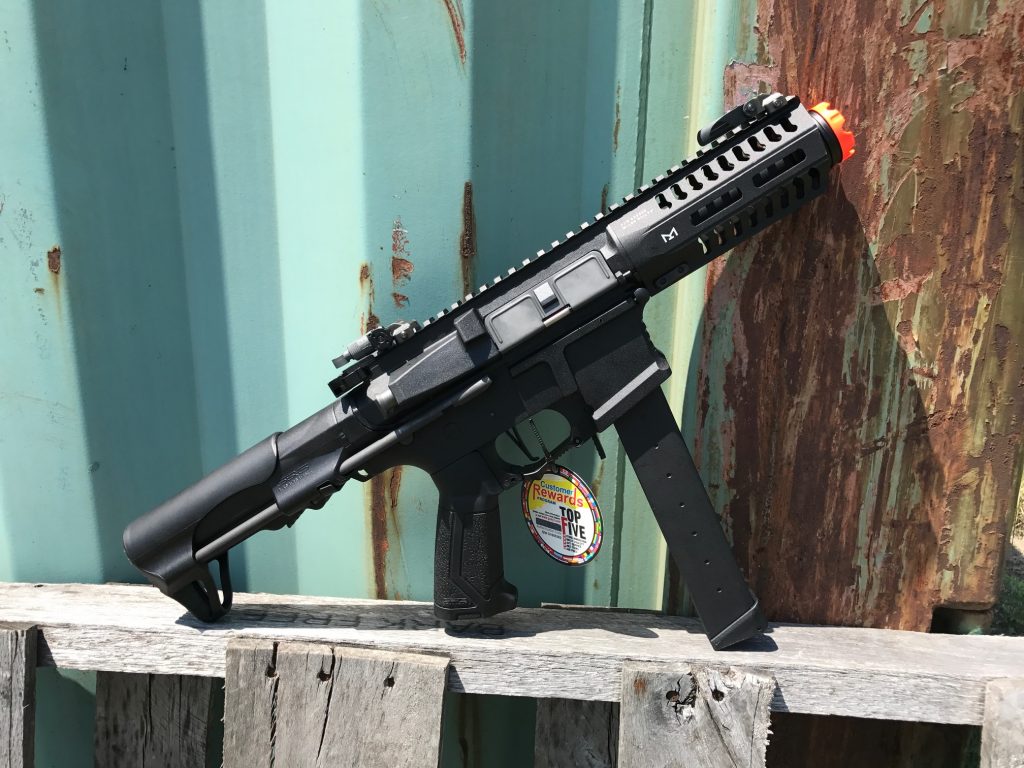 We had a major quest with this ARP9 to find out how well it'd stand up to some of the other big contenders releasing this year. Its biggest threat came from the Krytac Vector, and since we had one here to test it against, we decided to put the two head to head.
The Krytac Vector's performance has already been talked about (and you can read in more detail here), but to recap, it's a pretty slick little SMG capable of long range accuracy and snappy close-quarters performance as well. Where does the ARP9 end up in all of this? The ARP9 had no issues pushing shots out well past the two-hundred foot range at D14 Airsoft's testing range. With the hop-up properly dialed in with heavy weight BBs, we had a very easy time driving shots out close to the 250ft marker. While the Krytac may get an extra five or ten feet on some shots, and was slightly more accurate after the two hundred foot range where both guns were equal, the G&G ARP9 had no problem hanging with its more expensive counterpart.
Our one major flaw with the ARP9 was its included high capacity magazine. While fully wound, it fed just fine, however, much like similar magazines of its size, it required an extensive amount of winding to keep feeding, and towards the end of its cycle it'd have the occasional issue with double feeding. We are pretty certain that midcap magazines would fix this issue however we did not have any available to test.
Some game time with the ARP9 proved it excelled in the same places the Vector did. It was maneuverable in tight quarters, and had no problem keeping heads down further out as we closed in for the kill. It was significantly lighter than the Vector as well, which was a huge bonus to staying on the field for longer periods of time. The snappy trigger made it easy to get quick split second shots off when those fractions of a second were most important. Performance paralleled the Vector pretty closely when it came down to practical usage.
This left us with an interesting question. Which gun is better?
The guns both shoot to the same degree of performance. Ergonomics is more of a point of personal preference. The ARP9 is lighter, but the Vector has unique styling all its own. The one thing that is really a decisive difference between the two is price. It's for this reason we're going to crown the ARP9 the victor in this head to head battle. It is performance wise nearly the same gun for less than half the price. Unless you absolutely need the Vector's unique aesthetic in your life, the ARP9 does all the same things, for way less money, leaving you plenty of room in the budget for upgrades or extra magazines, and that's no small feat.
Is the ARP9 the ultimate champion? You can be the judge of that, but we think it's a pretty swell gun, especially for the price. It's hard to beat that kind of performance for such a low cost. If you're in the market for a new SMG to hit the field with, this is a no-brainer must-pick.
[Pickup an ARP9]
http://www.airsoftgi.com/product/GG-CM16-ARP9-CQB-AEG-Carbine-Airsoft-Gun-Black-31812/
[Don't forget to Pre-Order the Krytac Kriss Vector below!]
http://www.airsoftgi.com/product/Krytac-Kriss-Vector-SMG-AEG-Airsoft-Gun-Black-30530/
[Airsoft GI]
http://www.airsoftgi.com/index.php
[New Products]
http://www.airsoftgi.com/new_products.php  
[Airsoft Guns]
http://www.airsoftgi.com/Airsoft-Guns-139