Field Chatter | Krytac Vector for Best SMG 2017
Very rarely does a gun so fully encapsulate the attention span of the airsoft community in the way the Krytac Vector has done. From when it was first unveiled in January of 2016, to now as it's release looms upon us (and some lucky preorder customers already have theirs in hand) the entirety of the airsoft hive brain has been locked in on this awesome game changing replica. We wanted to know what makes this gun such a hot ticket item. Is it because the style is so unique? Could it be the performance possibilities that have us all so intrigued? Hit up the "Continue Reading" link below to find out.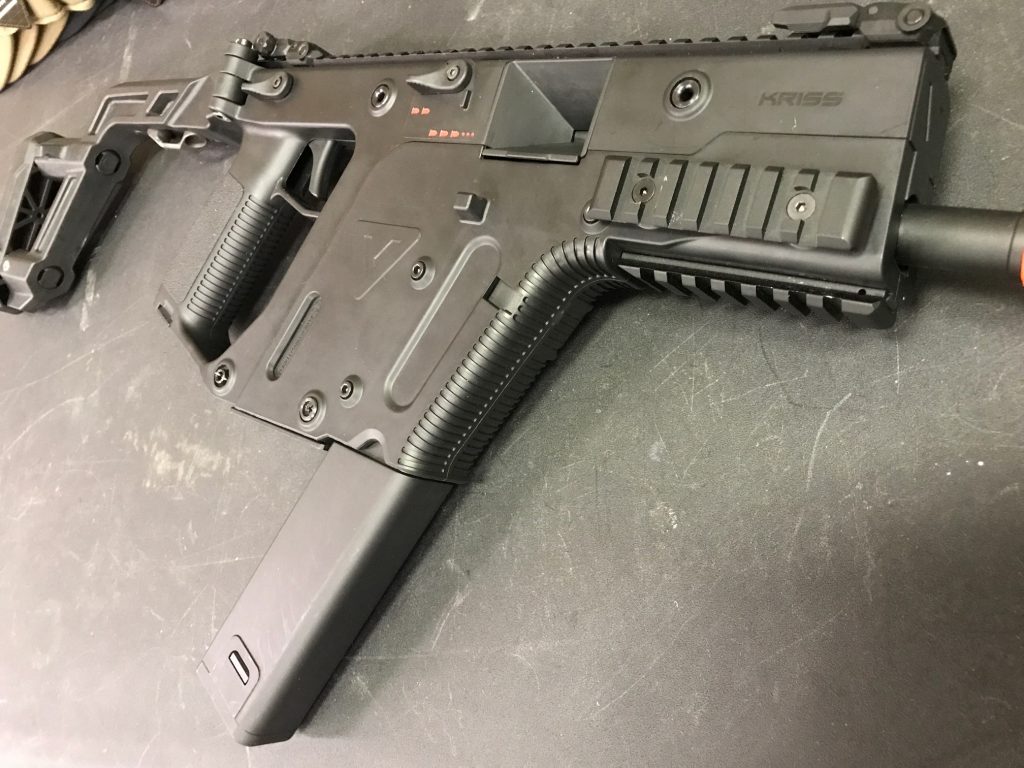 My interest was piqued from the first announcement of this gun. I've adored the design since I first noticed it playing (where else) Modern Warfare 2, and the idea of getting to pull the trigger on the real thing with my own two hands was intoxicating. I was one of the first to line up and pick up a gas blowback model when those were first released, and though that gun did not live up to my airsoft expectations, I still couldn't get the vector off my mind. Years would pass, and I'd get to finally acquire (and subsequently get rid of) a first generation real steel Vector in .45ACP, but still my mind would race with thoughts of airsoft domination at the hands of an AEG Kriss Vector. That time has finally come.
We were lucky enough to receive a demo unit at GI Tactical Texas, and I was one of the lucky few to get to take it to D14 Airsoft and get some game time with it. I was confident from our time handling it in store that it would absolutely dominate in CQB and I was not disappointed. What I did not expect, however, was the way this gun would dominate the field in other ways.
Before we get into the raw performance and some good ol' war stories, let's chat for a minute about the build quality of the Krytac Vector AEG. It's externally incredibly solid featuring a mix of polymer and metal internals, all of which are the highest quality. Despite the odd shape of the gun compared to industry standard rifles, Krytac managed to fit most of their standard line of parts inside the gearbox as well. This gun features performance similar to (but in my opinion slightly better than) the Krytac PDW. It's magazine holds around 100 rounds, and feeds flawlessly even on full auto. Ergonomically, the Vector is definitely the definition of non-standard, but once you spend some time handling it, you'll find it's every bit as easy to use as an AR15, just different. The safety, when engaged, de-tensions the spring inside the gearbox maintaining the lifespan of your gun. The whole package is rounded out by a large amount of 1913 Picatinny rail on the side, bottom, and top of the gun where the included easy-to-use flip up sights are mounted.
"But how does it shoot?"
We thought you'd never ask.
I played two separate scenarios with the Krytac Vector AEG, both designed to give a little bit different style of play so I could really push the limits of this replica. The first was a "Cone Game" where the objective is to maintain control of a traffic cone placed in a strategic position on the field. The idea is to keep the enemy team's cone knocked over, and your cone raised up. We played this game in the backwoods area of the field, north of the main town which meant I had a lot of avenues for sneaky flanking routes and if I could get into the right spots, tons of room to test the range on this gun.
As soon as the fighting broke out, the squad I linked up with decided immediately to utilize the creek as a stealthy flanking route. I hadn't intended to test the maneuverability of the gun, since it didn't belong to us and I didn't want to risk breaking it, but in the moment something spoke to me that said to give it a try anyway. I normally detest using the creek when it is remotely full, as it can get very slippery and I struggle with maintaining stealth as I fight the ground's constant desire to make me one with the mud and creek water. The Vector's compact size meant that this was less of an issue though. I was easily able to maintain an angle on possible sectors of fire with one hand, using my free hand to stabilize my movements and remain stealthy. As we encroached back into the main source of conflict, just north of where our cone was located (and conveniently behind enemy lines) the Vector's compact size once again proved beneficial as I was able to fit myself into the small pathways leading up with no issue and get the drop on many players. From this position on the ridge I was able to discreetly begin taking many long range shots at players as they skirted their way around the back side to try and flank the group holding our cone. The only issue I ran into (and what eventually lead to my long walk to respawn) was simply that I only had two magazines to utilize, and 200 rounds didn't last me as long as I wish it could have. However, this displayed the Vector's excessive amount of long range capability, as I was frequently landing shots out past 200 feet. The respawn gave me an opportunity to test out this gun's CQB efficiency as well, and I opted to travel down the pathway opposite the one I utilized the first time, pushing the small buildings and corners to drive out would be attackers. The Vector's small size, combined with its lower FPS meant I could use it point-blank per D14 Airsoft's rule set, and that meant I got the drop on many players who then had to reach for their pistol. With my rifle already up, it was a heinously easy task to score the hit and keep moving. Here, the double tap feature came in handy, as any chance I had to suppress as I moved up, I made use of it. I didn't want to try and over extend myself on ammo expenditure, and the two round burst ensured my opponents heads stayed down, and I didn't accidentally blow all of my ammunition before I got to my intended target.
Game two saw me turned into an incredibly hostile third party as a sentry. This game worked to much the same effect, but with multiple cones laid out across the town at D14, and Sentry units stationed near each to prevent either team from having easy access, and to guarantee they don't stay in the buildings long term, as we were allowed to respawn pretty much anywhere we wanted after a minute of being dead. This naturally led to a fair amount of shenanigans for some of our would-be defenders. This game gave me an incredible opportunity to test out the Vector's range yet again, as many attackers failed to push our building efficiently, getting hung up on the other target locations as they moved into the town. Since we were centrally located, it meant we had a lot of opportunity to take long range open shots at unaware opponents and really drive this gun out to its maximum distance. We pushed the gun well past 200 feet, hitting shots nearing 250 feet with ease. With lighter ammo (we used .28g bb's) we might have even to get out further at the expense of accurate shots, but with the windy conditions on this particular day, we didn't get a good chance to test this theory. The gun also performed admirably when it came to snap shots as a reaction to the players who did get a chance to attack our building. The small size of the Vector meant that it was again easy to maneuver in tight quarters and on more than one occasion get the drop on an unsuspecting player who was not prepared to draw a sidearm. This game mode was a blast, and made all that much more fun because of how excellent the Vector performed in roles other than the CQB role it was designed for.
Suffice it to say, the Krytac Kriss Vector AEG is hands down capable of living up to the hype. While I would count myself among the excited fans, I'll be the first to admit I was skeptical after being disappointed by the Gas Blowback Model's flaws. The Vector AEG crushed my expectations of what a gun this small could do, let alone a stock one. I have a few small SMG style guns that can hang with the Vector, but every single one of them took tons of time, money, and parts to get to that level and I easily spent more on those guns than I would to just buy an off-the-shelf Krytac Vector. While it is not the least expensive AEG on the market, it punches way above its asking price, and definitely qualifies as a must-have in my opinion. The only thing left for me to do is make some room in my collection for this beauty.
Don't forget to Pre-Order the Krytac Kriss Vector below!
http://www.airsoftgi.com/product/Krytac-Kriss-Vector-SMG-AEG-Airsoft-Gun-Black-30530/
[Airsoft GI]
http://www.airsoftgi.com/index.php
[New Products]
http://www.airsoftgi.com/new_products.php  
[Airsoft Guns]
http://www.airsoftgi.com/Airsoft-Guns-139