New Affordable Line of AEG's with a MOSFETS?
In recent years, MOSFETs have become somewhat of a staple in airsoft guns. Companies have been slowly incorporating MOSFETs into all of guns. Now-a-days you expect to hear them included with Krytac, VFC, Classic Army, and G&G. One you wouldn't think of is King Arms. They have just released their KA TWS Ultra Grade M4 Series. Here are some of the features!
External Build:
Zinc Alloy/Nylon Fiber Body and RIS
Metal Outer Barrel
Metal Trigger Guard
Metal Buffer Tube
Metal Selector Switch
Metal Magazine Release
Functional Charging Handle
Ergo Pistol Grip
Troy Style Iron Sights and Battle Axe Stock
Internal Build:
7mm Bearings
18:1 Gears
Standard MOSFET
Poly-carbonate Piston
Version 2 Gearbox Shell
18000 RPM Motor (estimated)
Quick Change Spring System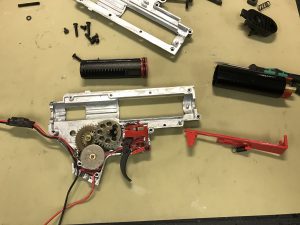 All of the internals will be the same across all models (given the FPS will vary due to size differences). We test fired the Type 3 Model with an 11.1V 20C Battery. We found the trigger response to be very snappy. After shooting about 100 rounds, the MOSFET kicked in and prevented the gun from burning out. The 11.1V battery proved to be too much for the gun, but the MOSFET prevented any damage the gun could have taken. With a 7.4V 20C Battery and a 9.6V 1600mAh battery, the gun performed flawlessly. The gun was very light weight, which made it easier to manage. I did find that the Troy style stock would dig into the had grabbing the pistol grip when completely collapsed, but had no problems when in every other position. The standard internals do leave room for improvement in terms of performance, but they are still of good quality and will perform very well for a while. With the quick change spring system, you can bring the gun up to 400FPS and take it outdoors. Over all, this series of guns are a very good and affordable choice for a starting gun.