After Action Report for Augusta Airsoft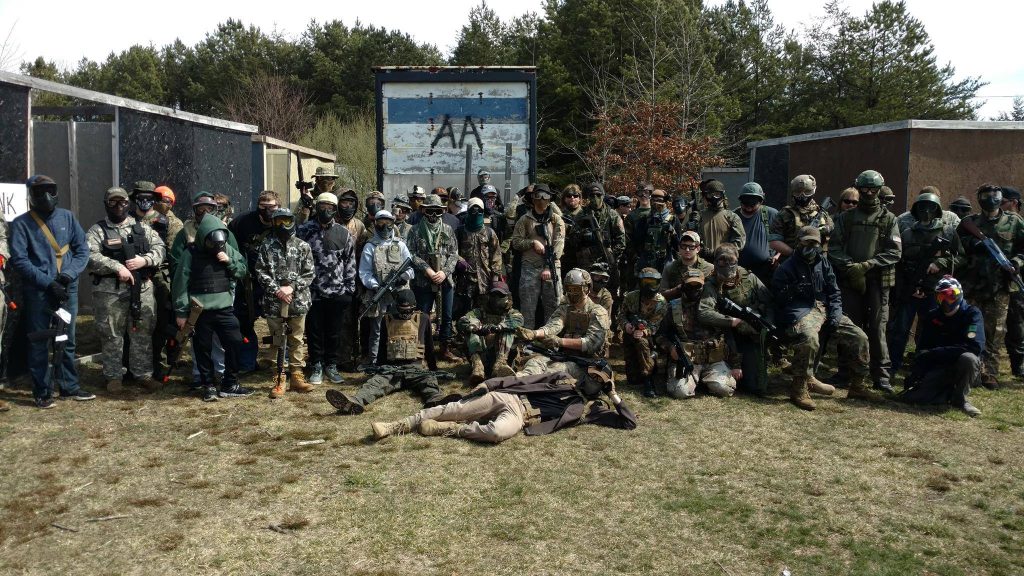 Written by Virginia resident and son of Odin, Marcus  "Thor" Olsson, is his After Action Report for Augusta Airsoft, LLC. A frequent player to Ballahack Airsoft in Chesapeake, Virginia, all-around great guy, and a pillar of the airsoft community for Virginia.
The owner at Augusta Airsoft sent me an invitation to come out and play at his field located in Stuarts Draft, VA several months ago. I was finally able to make it out there yesterday…Below is my review of my experience going to and playing airsoft at Augusta Airsoft, LLC. Along with some information about the field…
For those that use navigation equipment, just punch in 152 Johnson Drive, Stuarts Draft, VA and that will get you there. For me…I live in Hampton, VA so it was just under a three (3) hour drive for me. Convenience stores and gas stations are close by the field just up the main drive and within just a few miles of the field located on the main highway.
Information About the Field:
Hours of Operation are Saturdays from 12:30PM to 5:00PM and Tuesdays from 5:30PM to 7:30PM (Rain or Shine)
Admission is $20.00 on Saturday and $10.00 on Tuesday
Rentals are $10.00
You can call (540) 470-8713 or email [email protected] for additional information or check out their website at http://www.augustaairsoft.com/
They also have a FaceBook page https://www.facebook.com/AugustaAirsoftSV/ where they post photos, updates and information about their upcoming events.
I highly recommend anyone planning to go to Augusta Airsoft, LLC that you check out their website. There you will find their safety rules and requirements posted, as well as an electronic waiver that you must sign before you go out to the field. There is also other information so again check out their website before heading out there.
Want more details? Click here!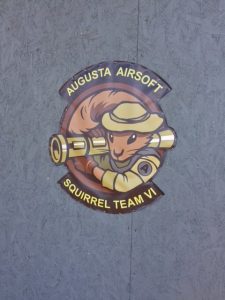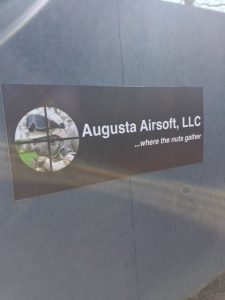 Moving on…
Now when you to Augusta Airsoft, LLC you won't find any fancy building or store…It's basically just a gravel parking area. The owner sets up a trailer where you sign-in, pay admission and get a rental if needed. Turtle Tactical sets up tables with various airsoft related items for sale like BB's, green gas, CO2 cartridges, Enola Gay smoke grenades and frag grenades (which are allowed to be used at the field). There were also other items as well as snacks for sale.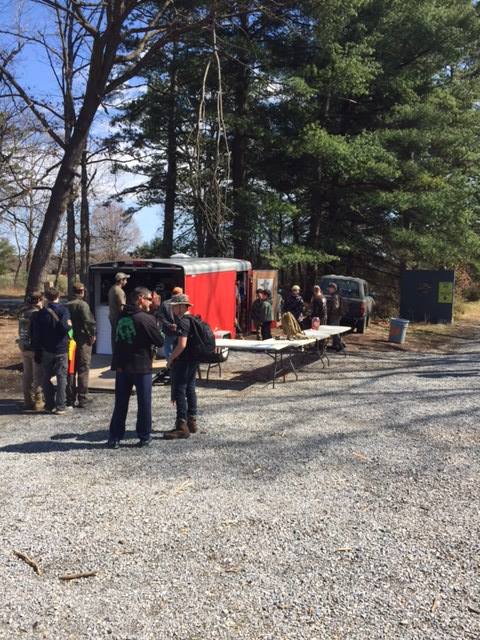 Before game play begins there is a short safety brief in the parking lot area… It's short and sweet, but to the point…Basically the owner goes over safety rules, field requirements and expresses that airsoft is just a game so everyone should have fun and enjoy themselves.
Playing Field Info…
The playing field is fairly large and brakes up in to different, varied areas, but I am not sure of the exact size. There are a couple of makeshift towns; One named Squirrel Town and the other Badgerville. Signs name each building scattered in the towns along with vehicles placed around the town that are used for cover. Recently they added some trenches along the backside of the field that provided an extra level of play. Players can move, maneuver and flank inmostly tight quartered towns and both dense and open forestation. Even as tight quartered as the towns are I was impressed with how well everyone could move around and there was no overshooting incidents.
Players…
The player base for Augusta Airsoft is impressive…Its so nice to report everyone was very friendly and there was quite a mix of both younger and older players. There were a lot of players helping others from sharing BB's, to batteries to even helping them fix their guns. It appears to be a tight knit community with the soul intention of having fun and enjoying each other's company. The owner creates an atmosphere that is friendly, fun and focused on having a good experience of airsoft. I can honestly say there was not one issue during the entire day. Everyone played fair, there were no hit calling issues and no arguments…It was just a pleasant time for all!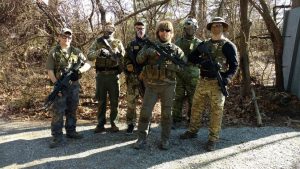 Game Play Report to Start the Day…
Before getting into game play…I just wanted to let everyone know that there are break periods in-between game play to allow you to hydrate, eat a small snack and reload. The breaks are short so that there is plenty of game time. Now back to the report…
Game play was well thought out and allowed for plenty of action…The warm-up games were played in Squirrel Town and consisted of two teams. Each team had their starting points on the opposite ends of town. The objective was to seize control of the building known as the Library that contained a package. Players retrieving the package from the library must bring it back to their start point without getting shot. I really liked these games as they were fast-paced and full of action.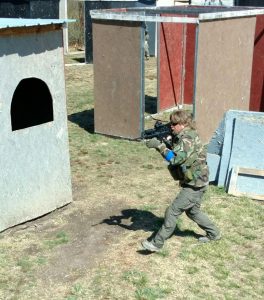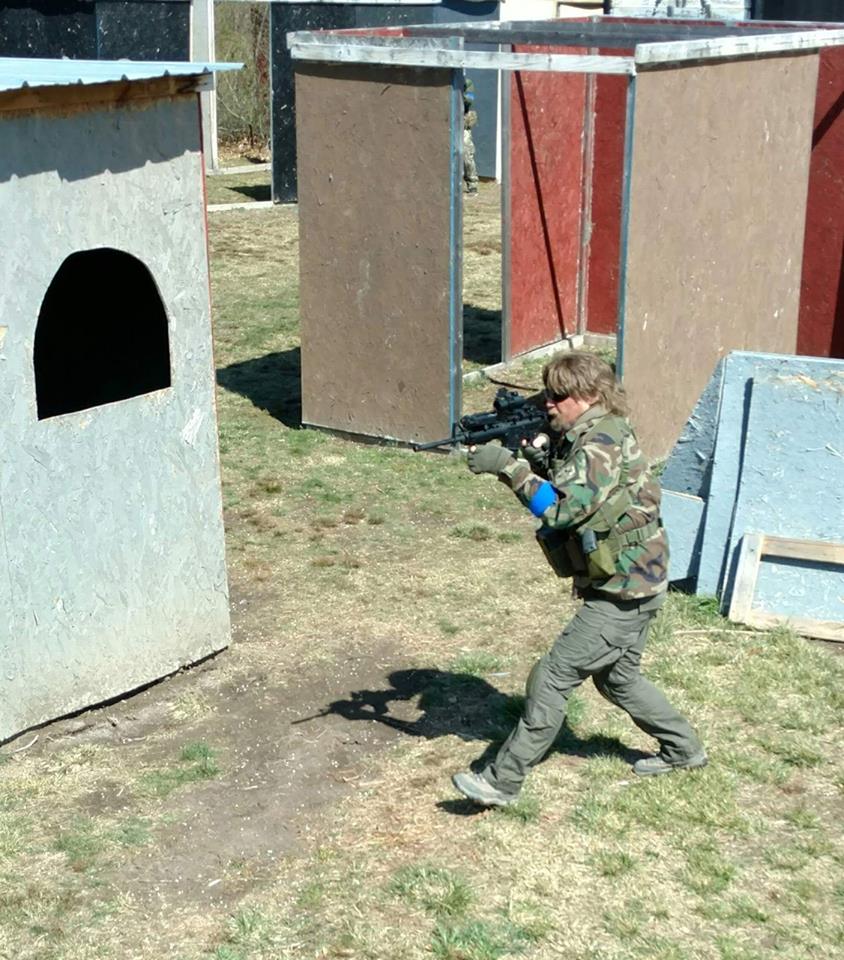 Next game was a Force-On-Force with two teams…One team started in Squirrel Town and the other in Badgerville. Taking control of a package in an area known as Lagos, located in-between the two towns, is the primary objective. Once you had the package you had to get it to the another teams spawn point. Which was no easy task…There is plenty of dense woodland area perfect for setting up defenses and ambushes. During this game I was able to sneak around to the rear flank of the opposing team who had the package and was making their way to our spawn point. Once they came out into the open I was able to shoot them including the player with the package. Thus ending their attempt to get the package to our spawn point…
Game Play Report to Finish the Day…
The next game was a flag control game…Three flags placed at different locations throughout the field and players raise or drop the flags according to their team affiliation. Again, the two teams had their starting locations…The team I was on was able to gain control of two flags and we had to keep them raised. The opposing team sent a large force to try to flank us so they could get one of our flags down. But a small group including myself managed to keep them at bay until the end of game. This game also allowed the use of the full field and there was no shortage of action.
The last game was Chaos where groups of players separate themselves in to small teams and go out to different locations on the field. The objective was to find, engage and kill the teams then heal them up and they would become part of your team. Groups go out to capture as many people as possible to form the largest team in order to win. In this game there was a lot action and moving going on. It did get chaotic there at the end and I believe there may have been some friendly fire going on, but there was never an issue.
In Conclusion…
My overall experience for the report of Augusta Airsoft, LLC…I would definitely say that it was well worth making the trip. I had a great time, lots of fun and really enjoyed myself…Even though I consider Ballahack Airsoft my home airsoft field. I feel like Augusta Airsoft is my home away from home…I definitely plan to make more trips out there.
To the owner I would like to extend my sincerest appreciation for the invitation and thank you so much for the free t-shirt. As well as thank you and your family for making my experience a wonderful, enjoyable and fun adventure! Looking forward to coming back out in the near future. Keep up the good work!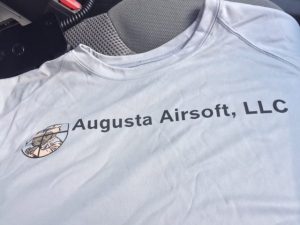 [Airsoft GI]
http://www.airsoftgi.com/index.php
[New Products]
http://www.airsoftgi.com/new_products.php  
[Airsoft Guns]
http://www.airsoftgi.com/Airsoft-Guns-139

Want to learn some strategies for close in town combat? Airsoft Basics: Bounding and Cover Fire, And how to up your game
Looking for a gun to dispatch the OpFor in burst both far and near? Can the new JAG Scattergun Hit at Long Range?