GITX VLOG #6 | Kid Gets Tased over Airsoft
The Texas Boys are back at it again with another VLOG! Today, we take you on a whirlwind adventure that covers a multitude of subjects! First, We'll introduce you to our newest team member, Colin, an avid airsofter high-speed cool-guy who will be working behind the scenes on a lot of our technical stuff. We also tackle a task for the Fighting' CEO Himself, Walter, and go digging through the closet that should not be opened! Fish and Dave also have a nice fireside chat about why bringing airsoft guns in public is a very dangerous proposition. Remember kids, never show off your airsoft guns in public, as they can be perceived as a real firearm, and get you in serious trouble, or worse!
As you can see, Life behind the scenes at GI is always an adventure. Whether we're building new custom guns, or trying to perform a mundane task like cleaning out the closet, we're always focused on having fun, and we want to take you along for the ride!
You can find more content like this on our Youtube Channel!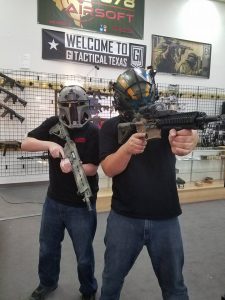 [Airsoft GI]
http://www.airsoftgi.com/index.php
[New Products]
http://www.airsoftgi.com/new_products.php  
[Airsoft Guns]
http://www.airsoftgi.com/Airsoft-Guns-139
Want Advice on how to improve your game?
Airsoft Basics: Bounding and Cover Fire, And how to up your game
Want to see some advice on how to paint your gun like a cool guy?
Painting It Right – Part 1: Materials and Getting Started