Top Airsoft Questions – "Gas Powered 1911" Edition
The real Colt 1911a1 was designed by John M. Browning. The US Army began use of this model on March 29, 1911 and became known as the Model 1911. The U.S. Navy and U.S. Marine Corps adopted this gun in 1913. Over the years and many battles, the 1911 has become an iconic handgun. Many manufacturers have adopted this model and have made changes throughout the years. Allowing this gun to stand the test of time! Lets answer some questions about the 1911 in airsoft!

Is the Colt M1911 airsoft gun good?
There are many different manufacturers of the 1911 in airsoft. A lot of them are not modeled after the original Colt 1911. Due to how popular the 1911 pistol is. It is has been on the market for a long time. With a plethora of upgrade and repair parts available. Manufacturers like Elite Force, KWA, KLI, and Tokyo Marui make high quality pistols out of the box! Especially the 1911 pistol!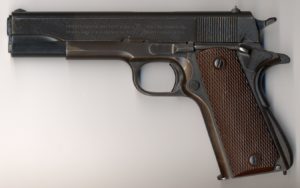 How long do CO2 powered airsoft guns usually last?
There are a couple of factors to consider when thinking about this. The quality of the pistol and the how you maintain the gun. A poorly built gun with full maintenance will fail due to poor construction. A well built gun with no maintenance will still fail! If you don't clean your gun and inspect for extensive damage. Any gun will fail eventually. With CO2, the pressure is dramatically increased. The same will go for the stress. Look for a gun with a great history and manufacturers that actually care what the customers have to say!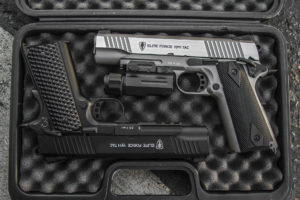 1911 or Glock?
This is probably a question that has been asked since the Glock was conceived. It has grown into a keyboard war with no end in sight! As well as the Glock performs, it is hard to argue against the pistol that fought in two world wars! You choose which side you want to be on!


Is the Tokyo Marui Hi-Capa 5.1 a worthy airsoft sidearm?
The TM 5.1 is technically not a 1911, but it is reliable out of the box. You can also upgrade it to look and shoot however you want. You can do anything you want to this gun! But it's not a 1911…

I personally have used and owned a plethora of hand guns. Front the Glock, to Sig P226. Even the M92f and FN 5-7. I will always find myself going back to the 1911. No matter who make it, it will always be the same gun. I will always be able to pick up any airsoft 1911 and get the sights on target each time. However, I do like features from other pistols. Maybe I will talk about them in the next blog!