OE TECH vs 5.11 Tactical Pants
There are a wide range of "tactical pants" available on the market today. Almost every manufacturer of outdoor clothing or military uniforms has their own line of "tactical pants." As a result it can be difficult to sort through everything that is available on the market and find the best pants available for your money. However, 5.11 is without a doubt the original "tactical pant" and as a result the standard by which all others are measured. OE Tech has recently come out with their own model of tactical pants. I set out to see how they measured up against the 5.11 pants I have been using for years. I will start by comparing the features they share and then point out their differences.
Elastic Waistband
Both pants have what their manufacturers refer to as a "self-adjusting waistband" but what that really means is they have an elastic waistband. The elastic allows the pants to remain comfortable and not restrict the wearers range of motion. I prefer the OE Tech pants in this regard as the design of the waistband does not leave judgmental lines on my waist.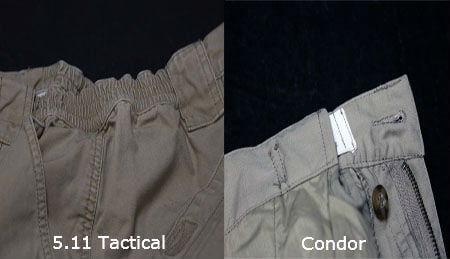 Rear Pocket
Each pant has a unique rear pocket design but frankly I greatly prefer the OE Tech design and that is solely based on personal preference. The 5.11 design has slanted rear pockets that edge's meets the edge's of the front pockets on the side. The edges of the rear pockets are reinforced like the front. The plus of this design is a wide pocket "mouth" that allows for the quick insertion of items and multiple items can be carried clipped onto the pocket edges for quicker access. For example, I can carry my flashlight and folding knife on my right side (my strong side) as shown below.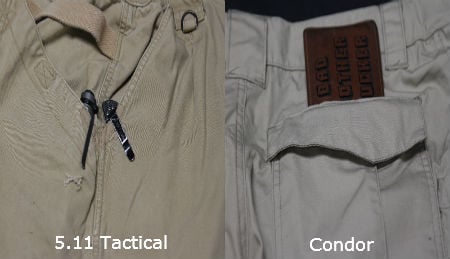 Cargo Pocket
Both pants have similarly sized cargo pockets on each leg. Both use hook and loop closures. Also, the pockets have inverted pleats so they remain flat when empty. The OE Tech however has a more elaborate design. The flap is slanted allowing for easier one handed opening. It also features two smaller magazine pockets inside so the wearer can carry two M16 (or similarly sized) magazines inside without them flopping around or shifting.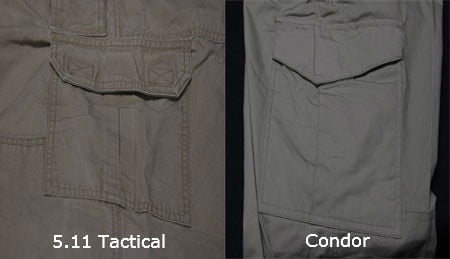 Front Pocket
The edges of the front pockets on each pant are reinforced to help prevent wear. Anyone like myself who carries a folding knife everyday will appreciate this feature. The pocket clip of a folding knife will routinely wear out the edge of pockets after the repeated insertion and removal of the knife from the pocket. The OE Tech pants have a smaller "coin" pocket inside each front pocket for the carriage of smaller items (such as coins) like you will find on most jeans. A feature that is not shared by the 5.11 pants.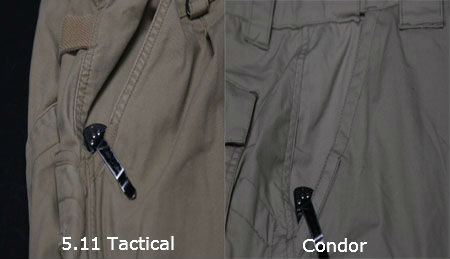 Cell Phone Pocket
Both pants feature dedicated pockets for a cell phone but the pockets can be used to carry similarly sized small items. For example, I routinely use the pocket on my 5.11 pants for a spare pistol magazine when at the range. The difference being the OE Tech has 2 such pockets; one on each side. Also, the flap of those pockets can be tucked and secured out of the way with hook and loop closure on the inside of the pocket if you prefer unobstructed access. The pocket on the OE Tech is wider and allows the carriage of smart phones, whereas the pocket on the 5.11 is slimmer and more limiting. That can also make the phone difficult to remove.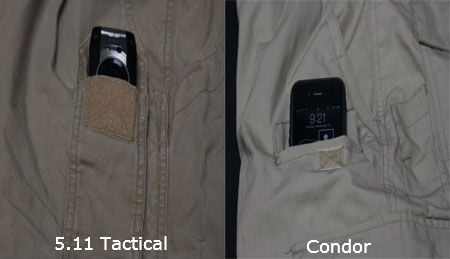 Misc.
There are additional features shared by each model that I will not go into specific detail about as they are not significantly different between brands. However, they are as follows; the use of authentic YKK zippers, built in openings for blousing strap / 550 cord, and reinforced belt loops.
Despite the numerous features that each brand of pants shares the OE Tech has additional features that are not shared. Those features include:
Knife Pocket
In addition to the reinforced front pockets the OE Tech Tactical Pants have two dedicated folding knife pockets, one on each side. Although intended for a folding knife they could also be used to hold pens, markers, a small flashlight, or anything of similar size and shape.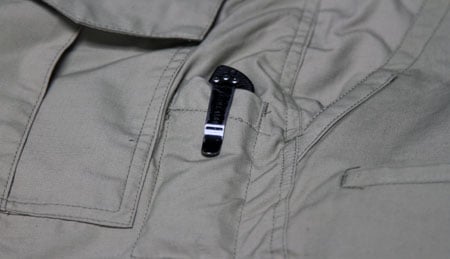 Calf Pocket
The OE Tech Tactical Pants also feature a small utility pouch on each pant leg about where a person's calf would be. Personally I do not imagine most people using these pockets much but if you need them these pants have them. These pockets are about the same size as the "cell phone pockets" but given their location I do not imagine them carrying anything of significant weight effectively as the pant leg will be flopping around as the wearer walks or runs. However, I suppose it would be fine for something relatively small and light weight like an Israeli bandage.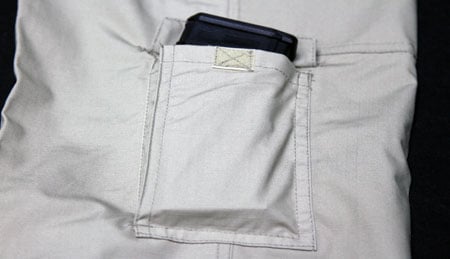 Rip Stop Nylon
The 5.11 pants do use a sturdy 8.5oz cotton canvas but the OE Tech Tactical Pants use lightweight nylon rip stop that has been DuPont Teflon treated for enhanced stain and fade resistance. The fade resistance is a real plus. In my experience 5.11 pants will rapidly fade, especially on the edges; even when properly washed.
I have been using the 5.11 Tactical Pants for years and have numerous pairs. I am not likely to rush out and replace them all with OE Tech pants. However, I will probably supplement them with a couple pairs of the OE Tech. Anyone looking for a good pair of tactical pants would do well to purchase the OE Tech Tactical Pants. At a fraction of the price ith added features they are a contender in the large market of tactical pants.
Best Regards,
Phantom
P.S. It should be noted for a fair and impartial comparison that the 5.11 pants do have several features not shared by the OE Tech but I did not go into detail.