Lone Survivor by Marcus Luttrell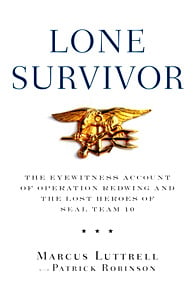 I recently found myself re-reading Lone Survivor by Marcus Luttrell while on vacation. Being of a lighter is righter mindset and not wanting to worry about lost luggage I planned to travel using only a carry-on size backpack. So my belongings were limited to the bare essentials to save weight and aside from my I-Pod I did not make any plans to fight boredom. However, I was wary about not having something to do during the 13 hour flight. I happened to still have a copy in my car so into my pack it went. Anyone familiar with backpacking knows it is a game of ounces and not pounds but the weight penalty was worth the opportunity to read it again.
Anyway, Lone Survivor is a personal account by Marcus Luttrell of Operation Red Wing. Operation Red Wing was considered the largest blow to the special operations community in the Afghanistan campaign until the more recent Chinook shoot-down. Marcus Luttrell was the only member of his SEAL team to survive the operation. The book not only details the battle but also his ensuing battle to survive until he could be rescued. He also talks about the training and mindset of the Navy SEALs. If you have not read this book I recommend you do so.
Best Regards,
Phantom