Licensed Masada in Clearance!
The Masada Adaptive Combat Weapon System has been in production for a lengthy amount of time. Originally designed to replace the M16 for the United States Military, the Masada went through development turmoil, but was still featured in the Army's Individual Carbine competition. While the competition was cancelled before a winning weapon was chosen, the Masara ACR (Adaptive Combat Rifle) performed quite admirably. This rifle has been featured in famous games and movies such as Call of Duty, Battlefield 3, & Transformers: Dark of the Moon.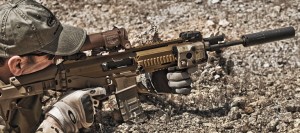 So, it is no wonder that the Masada is a popular choice in airsoft. The lightweight modular design, coupled with the ability to take standard M4 magazines, makes the Masada a great choice for both beginner & veteran players. Along with the polymer hand guard, official Masada trademarks, and ergonomic design, the Masada is a mainstay of many airsoft armories. If there was one deterrence that prevents the Masada from being in every player's arsenal, it is the cost. The nature of the Masada design has many of these airsoft guns retailing at no cheaper than about $270.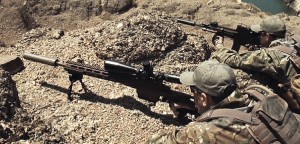 Now, the
A&K Masada
is on our Blowout Clearance section, and will come to you at a price never seen before! For less than $200, you can have access to the features that make the Masada such a standout airsoft gun both in the field and on the tech station. Be sure to check
this Masada
out as well as others in Airsoft GI's
Blowout Clearance
section.