Lancer Tactical Pro-Line Airsoft Gun Overview Part 2: Alpha Stock and PDW stock
Round 2: Alpha Stocks and PDW Stocks
We're back with part 2 of our Lancer Tactical Pro-line Airsoft Guns series overview. If you haven't checked out part 1, you may want to go back and take a look and catch up. In that article, we covered what makes the internal components of these guns so special, including the fast trigger, and MOSFET for snappy shots and reliable electrical performance. This time, we want to take a closer look at what makes these new models, and their unique stocks, so special.
Alpha and Omega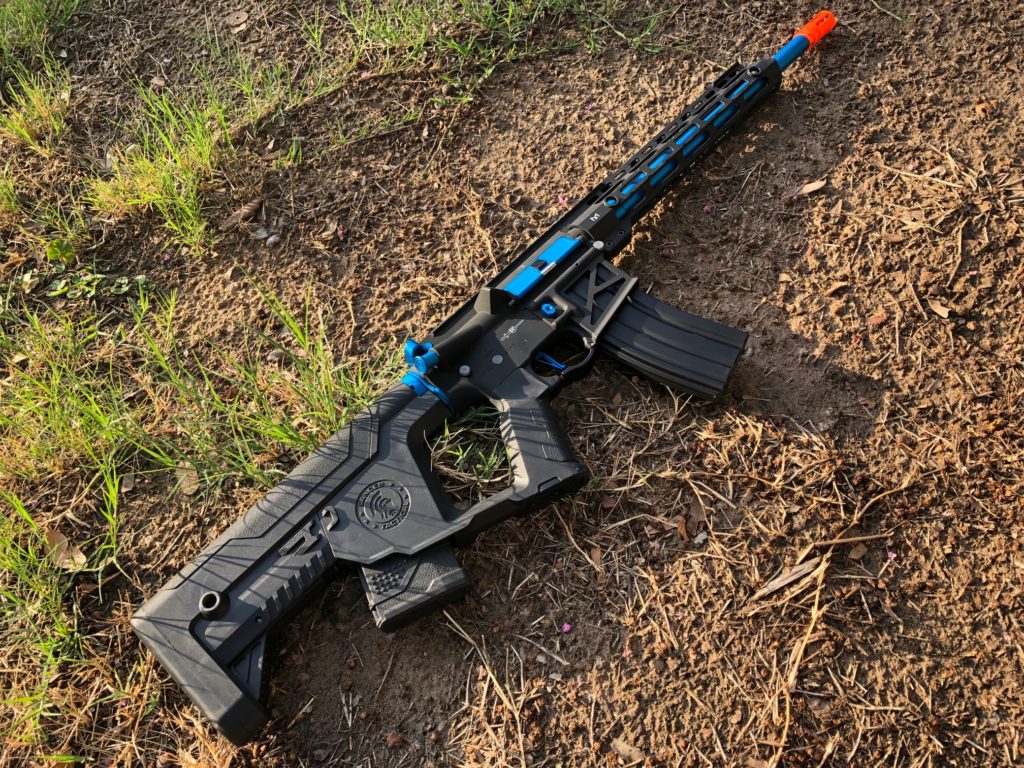 Lancer Tactical offers several different Airsoft Guns with the Alpha Stock, all under the Enforcer and Blackbird monikers. These rifles all seek to usher in a new era of aesthetically pleasing futuristic rifles for the crowd that is more interested in tacticool and less interested in realistic milsim style play. These rifles are flashy, often colorful, but smartly designed to also give function. The Alpha stock itself embodies all of these tenets.
The Alpha stock offers a take on the traditional extending or telescoping stock by fattening up the back side to give it the profile of a small full stock, allowing it to be extended, and adding some additional storage. Coupled with the very liberal usage of futuristic design elements, it gives the gun a space age feel unseen on other guns. Coupled with the bright colors of some of the guns in the Blackbird line, these rifles are down right speed soft ready. The added functionality of back magazine storage makes it functional option for outdoor players even if the style isn't very MILSPEC.
Lancer even thought of the little details that many other fancy stocks of this nature ignore. Where many options don't adjust for length, this gun does. It is covered in QD sling points so you can keep the gun tethered to your body. While users with larger hands may struggle with controls a bit, the thumb hole gap is definitely big enough for smaller players to work around with ease. All in all, this Alpha stock was a very thoroughly thought through and smartly designed piece of kit for your rifle.
PDW: Pretty Dang Wicked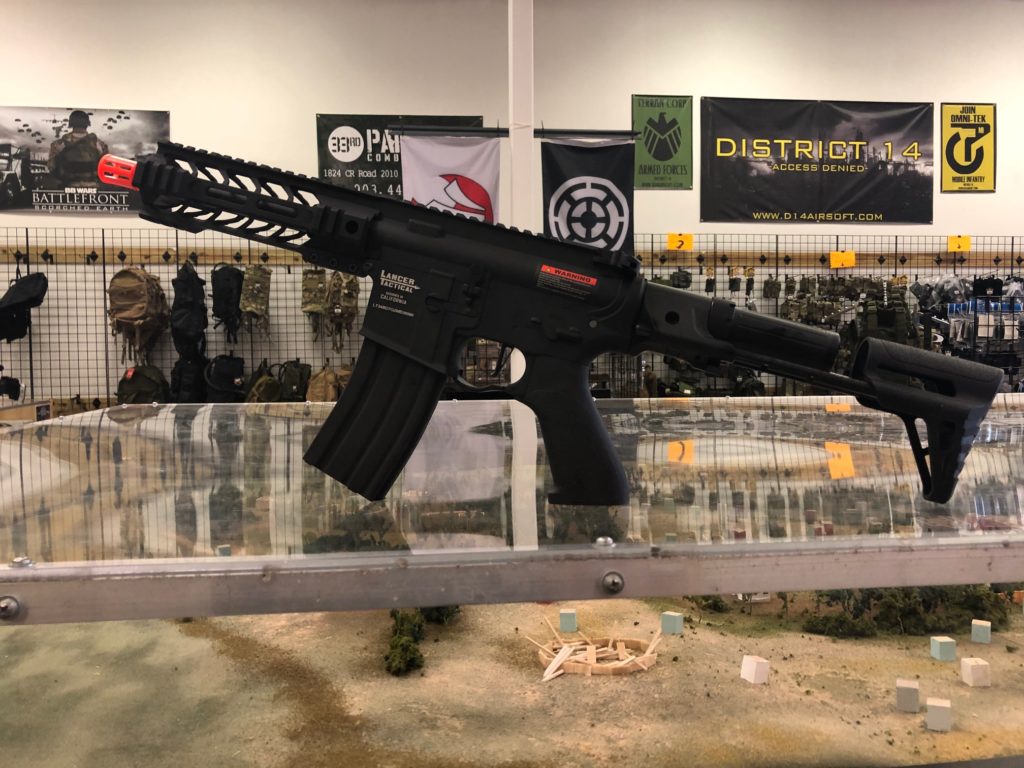 The PDW stock on the other hand, is 100% Function over form. This is not to knock the PDW stock as ugly or cheap looking, as it's still pretty eye catching, but the nature of how PDW stocks have to function does lend them to a certain functional aesthetic. It features a QD point as well for sling options, though I found it best to utilize a sling through the back of the stock pad if you're going to use a two-point sling like I prefer. This gun hides the battery inside the stock tube, which surprisingly doesn't unscrew but it is pressure fitted in place with o-rings. While initially I had reservations this would be less than perfectly secure and not hold your batteries safely it is very snug. Battery space is tight, so Lancer Tactical was thoughtful enough to include a deans plug on this gun to save space, which also acts as a bit of an upgrade out of the box as well.
Shouldering and using the PDW stock option on the Battle Hawk airsoft guns in Lancer's line up feels solid. The stocks do not wobble, they do not rattle or shake unnecessarily. It is very easy to get a solid purchase on the rifle and transition from target to target. Coupled with the lightning fast internals and the light weight metal body, any pro-line rifle equipped with this stock will be a beast in CQB.
More Tools For Your Tool Box
The whole point of these guns is to give the players more choice. If you pair quality performance with a large brand variety, there will be a gun for everyone. These two rifles cater towards even more players than the run of the mill bog standard ar15 variants you see every day on the field. Up your airsoft game, and snag a Lancer Tactical Pro-Line from Airsoft GI, whether one of these models, or one of the other more standard types we showed off in Part 1 of this series.
Want to grab your own? Click HERE
Want to check out some great special deals? Click HERE