Deep Dive: Lancer Tactical Proline Overview with Dave from Texas!
High Performance. Low Prices.
That's the name of the game with the Lancer Tactical ProLine series of rifles. These guns are purpose built to run with the higher end guns on the field, but not blow up your bank account. These rifles include some amazing features like full metal construction, high quality electronics and some upgraded parts out of the gate. Let's take a closer look!
Heavy Metal Thunder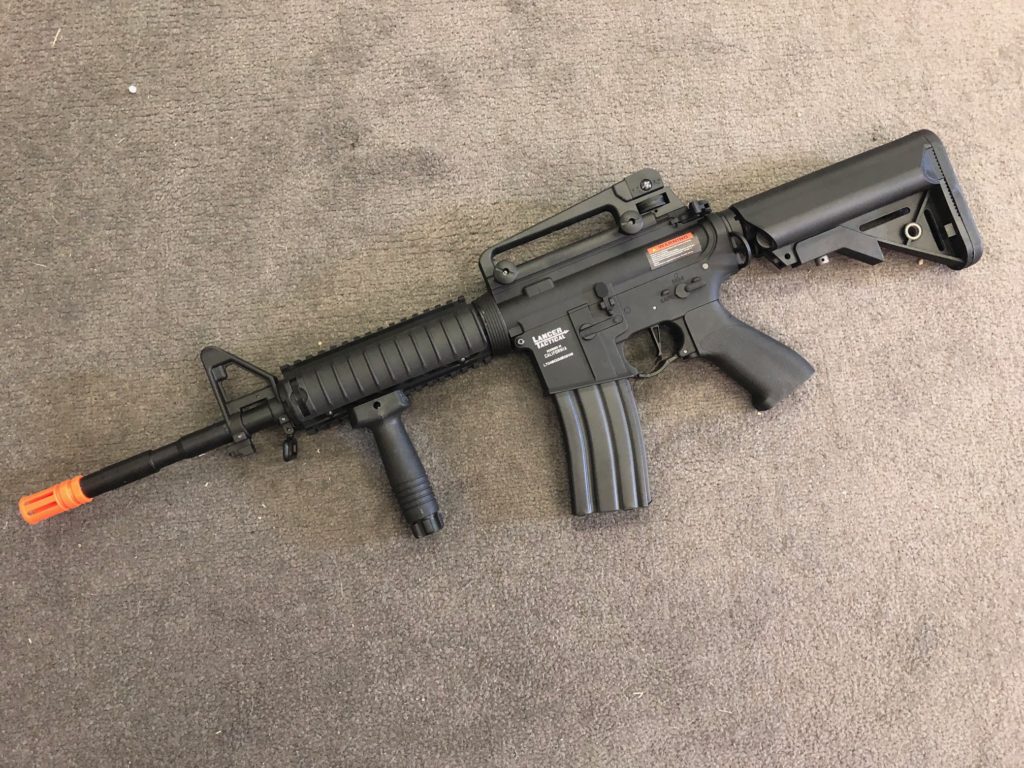 These new Pro-Line rifles from Lancer Tactical all feature full metal receiver construction. This means your rifle is rugged, durable and able to withstand the abuse that regular airsoft play can inflict. It adds a nice weight to the rifle as well, making it feel less like a cheap toy and more like a proper training tool or a piece of righteous sports equipment. The style and aesthetics of these guns can vary from M4A1 pattern rifles with traditional quad rails and triangle sights to more futuristic looking options like the LT25 with it's removable muzzle device and M-LOK hand guard. There really is a style to fit every preference from MILSPEC to Speedsofter and every where in between. The finish on these guns is smooth and well applied meaning it won't flake easily under use, and they take paint well too!
All of this serves to protect the rifle from harm so you can keep playing as long as possible. To see what makes these guns really special though, we need to take a look on the inside:
Lightning Quick Internals
After pulling out the gearbox, you'll notice right away how clean it is on the outside. These rifles are not caked with nasty grease and lube like some cheaper brands. It also gives you a great look at the MOSFET wired in line with the battery. This unit protects your gearbox from all kinds of electrical issues and keeps the ProLine rifles running like a champ. The Flat trigger gets a chance to shine here as well. Since it's a popular addition to many rifles now-a-days it was good on Lancer Tactical for including such a small detail.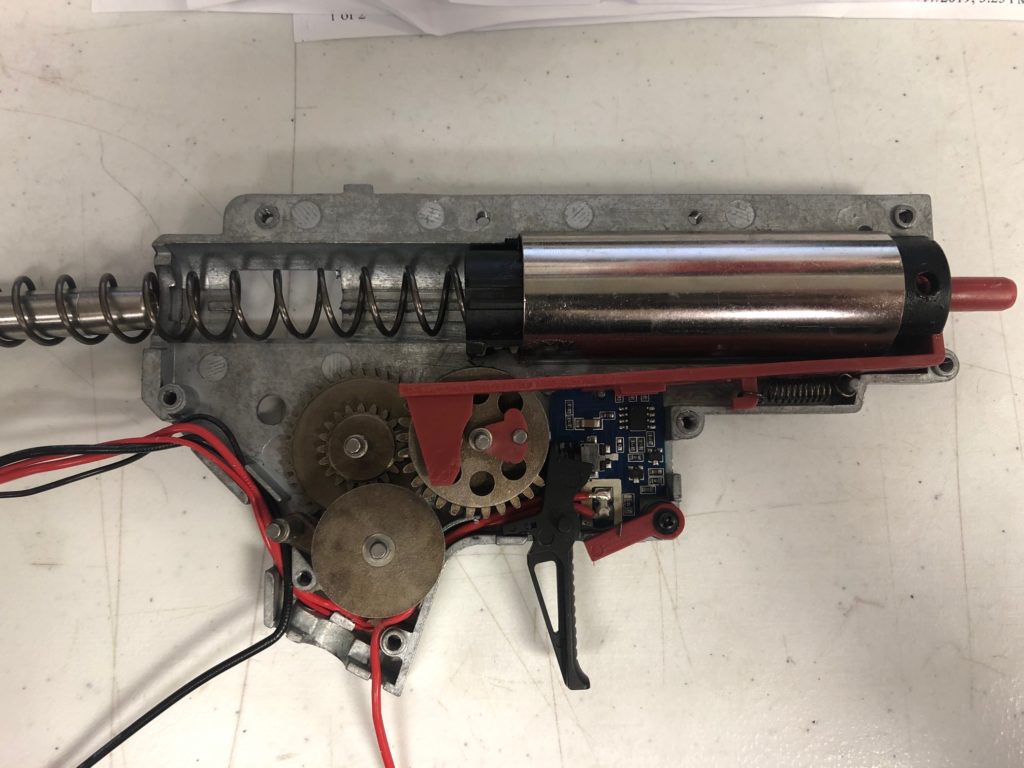 The Internal components once revealed allow you to see some of the quality improvements made to this gearbox over other guns in the price range of the Lancer ProLine rifles. The gears are made well, with no imperfections or burrs common on cheaper rifles. The Tappet plate is sturdy, and the piston is chunky and capable of taking a beating. The quick change spring made opening the gearbox a breeze, and makes spring changes even more easy than normal airsoft guns as well, so points to Lancer for the inclusion.
The star of the show is the electronic "fast trigger" Lancer includes with every ProLine rifle. This turns what would have been a well made but otherwise standard gun into a proper force to be reckoned with. The micro switch on the trigger board allows for lightning fast response times when you pull the trigger. This means your follow up shots will actually make it in time and semi-automatic only game play becomes much more viable than it was previously. This gearbox was clearly more than an afterthought when making a new line of rifles, and really helps the gun hold it's own against the wealth of higher priced options players tend to favor. Just because these guns cost less, doesn't mean they shoot worse by any stretch!
Well Rounded From Inside To Out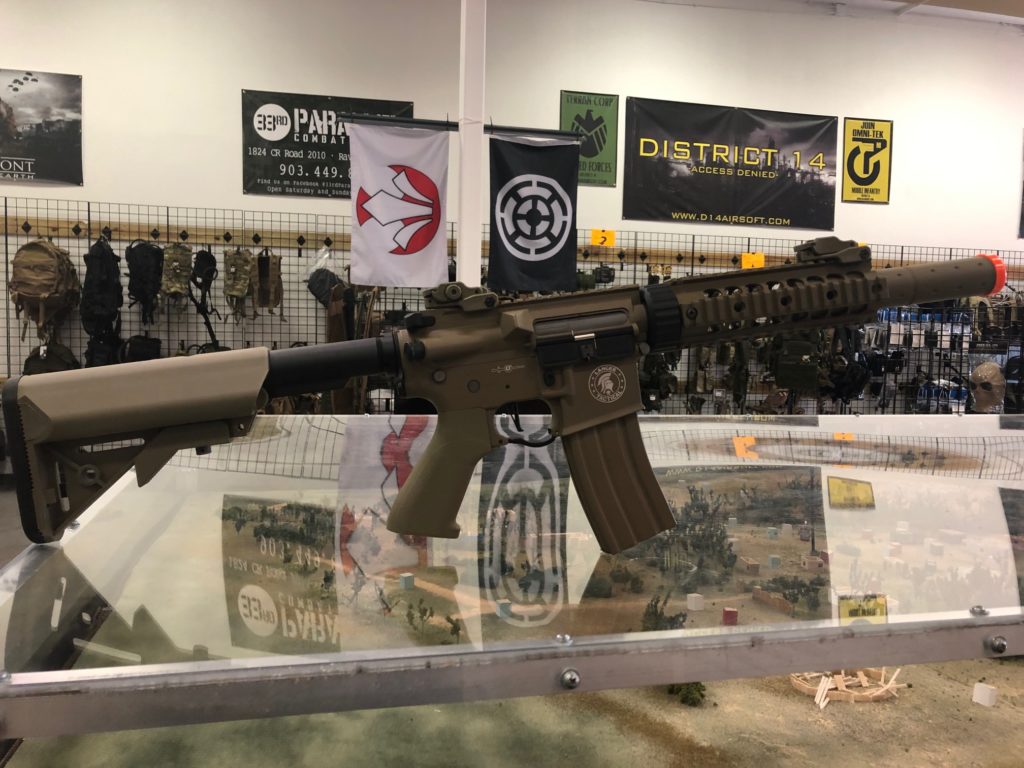 The Lancer Tactical ProLine rifles really do a lot to improve upon the mid-range price point of airsoft guns. Where traditionally, these guns would have great externals but still be a cheap gun on the inside, Lancer Tactical bumped the status quo of this level of airsoft gun to be more than just good looking but also great shooting. If you're ready to graduate past polymer start rifles or just want to jump straight into the realistic weight of a metal body, this Pro-Line guns are where it's at. Stay tuned for part 2, when we check out the new guns from this line up that include the Alpha Stock and PDW Stock offerings new to the ProLine models!
If you want to snag your own: Click HERE.