Gears…. Did you know?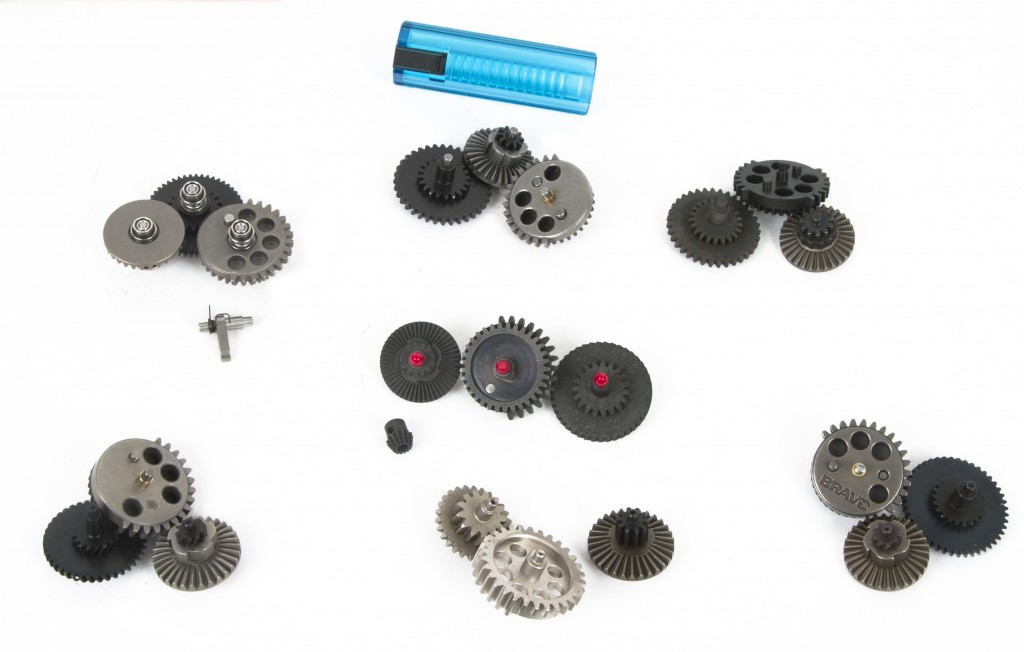 Some of you may know that I have been working on my airsoft guns for approximately five years now. From AEG's to GBB's. I've always had a reason to repair or upgrade a few guns here and there. I've been playing Airsoft for about six years now. I usually prefer the fast paced CQB games, but I do play Milsim games when asked to. I started playing airsoft at a place called Airsoft Playground before Tac City North was around. On days that I do play, the most common type of Airsoft Gun I see on the field is an AEG. A lot of people, back then, were not very knowledgeable on the internal of an Airsoft gun. To start off, different airsoft guns have different versions gearbox. However, the types of parts inside are all the same. One of the most important parts is the gears, which operate the internal of the airsoft gun.
Airsoft GI sells a wide variety of gears from different companies suitable for your limits and desires. To those just looking to increase the durability of your gun, Echo 1 Performance Gear Sets have different ratio gear sets from speed to torque. Continuing up the ladder, for those that are looking to increase both performance and durability, Siegetek gears are the way to go. The type of material Siegetek uses as well as the precise specification of every tooth spacing and diameter on the gear shaft are what give them their name. Siegetek, former RiotSC, has manufactured gears for some time now but it is only recently that Airsoft GI has finally carried these amazing products. Whether, you want a high speed setup or a designated marksman rifle that shoots at 600+ feet per second, their selection of gears can handle them all. The only downside is that currently, they are only offered to airsoft guns that use a Version 2 or a Version 3 gearbox.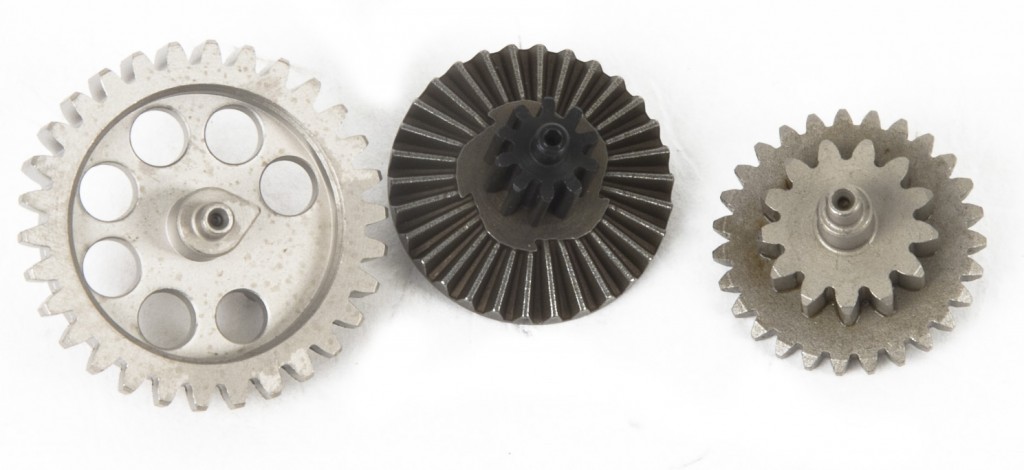 Don't think Echo 1 and Siegetek are the only two brands that I would recommend. Airsoft GI carries gears from manufacturers such as Modify, Bravo, and Prometheus, which are great gears as well. Some manufacturers such as SHS, X- Hightec, Combat Squad, etc. also manufacture great gears; however, in my opinion, they are not as well made as Siegetek. Once you have decided what gear set you want, next is the installation. For those that are just beginning to learn to upgrade their gun, its important that you find a qualified technician, whether its a recommendation from a friend or a store tech and you trust. The techs at Airsoft GI are highly qualified for any work done to any gun.
When I work on my airsoft guns, I try to depict the best way to achieve maximum efficiency while maintaining my desired velocity and rate of fire. I would choose a gear set with a given ratio to calculate an approximate rate of fire output on a certain Lithium Polymer battery. I would then polish my gears to reduce friction between the shafts and bearings. By polishing those critical areas, any grease and lubricant applied will be evenly distribute along those surfaces, and prevent them from going to unwanted places.. I use a different lubricant for the compression parts, but that will be another article..
In conclusion, by determining the right set of gear and reducing as much friction on the surface as possible, you could achieve a reliable, long lasting setup. But most importantly, unless you are working on your own guns, it's important that you have the right technician for the job. I am Marq, be safe, and get out and play airsoft.