Field Chatter | JAG ARMS Shotgun Review – Best Gas Shotgun?
Time and time again, players will ask us for our favorite guns. Many times that begins with a long list of your standard fare of rifles; be it the M4, the AK-47, or the G36 style of airsoft gun. Often, these guns are purely separated by their external characteristics and perform identically to one another. Shotguns have always managed to differentiate themselves via their typically tri-shot performance; however the often cheap materials have always kept them from reaching "must-have" status. The JAG Arms Shotguns are here to settle that score, and prove once and for all that airsoft shotguns are here to outperform your expectations and steal that must-have slot away from some of your more coveted airsoft replicas.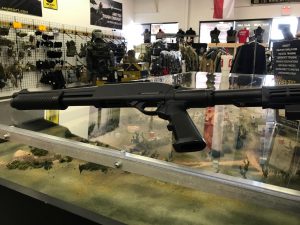 The first thing to cover about the JAG shotguns is their quality externals. Each model in the line has full metal external construction on the receiver itself, the barrel, and the magazine tube (although this is cosmetic as on other tri-shot guns) with polymer pumps on all models. The full stock models utilize a polymer stock as well, which house the gas cartridge, while the collapsible stock models sit a plastic LE style stock on a metal buffer tube, which serves as your gas chamber which you fill via the valve located on the buffer tube itself. Each model features a metal picatinny rail to attach optics while the TSS and SP models also feature a metal side saddle for holding additional shells (and if that weren't enough, even include a few extra shells in the box as well). It is rounded off with a safety switch nestled quietly behind the trigger in a traditional position for a shotgun.
Click Here to see more details, and a 200 ft shot!

Internally, the guns function to the same degree. While the source of the gas is slightly different between the HD and HDS shotguns from the other models, it all comes down to green gas propelling the BBs down one of its three inner barrels. When you rack the shotgun; the breach opens up to reveal a selector switch allowing you to choose either three BBs per shot or six per shot. This allows the end user to tune the size of the spread to some degree, as the gun does have a fixed hop up. We found it operated most effectively with .20 gram ammunition, though it operated just fine with heavier weights as well. The trade off to running heavier ammo through this replica was shorter range, but a tighter more consistent spread.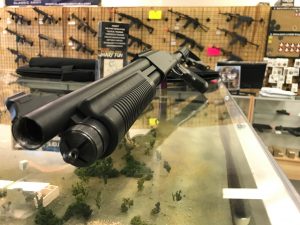 These BBs are fed from a shell-shaped magazine similar to the less expensive options on the market. It operated fine with aftermarket shells from other manufacturers with no noticeable problems feeding or functioning. What would be the pump release on the real thing functions as a trap door release and a shell kicker to both allow the shell to be removed and forcibly extricate it from the loaded position when it's time to change shells. It's not an ideal location for such a control, but with practice it becomes fairly easy to hit, if not unconventional, though this is to be expected when repurposing an existing control from the style of gun it is based on to a new purpose.  These shell style magazines typically hold thirty rounds, giving you between five and ten shots per magazine before a reload is necessary, although crafty players can manufacture a modified m4 midcap with a shell on top to remedy this and there exists 3d-printable magazine adapters as well, all of which work to varying degrees of effectiveness (though none were tested with this gun).
Enough with the boring statistics though, we know our readers want the details. We were able to test out two different models during actual gameplay, the HDS and the TS models. The HDS range tested out to at least two hundred feet with .20 gram ammo, and the TS favored closer engagements reaching a maximum distance of one hundred fifty feet, though it averaged about one hundred feet most of the time. This gave a huge leg up on the field when trying to maneuver between the buildings at D14 Airsoft. I was able to effectively suppress a doorway before moving in to close for the close quarters shot. Often times, I'd get lucky on windows as well and often times get a cheeky shot in before I entered a building. Moving through the brush was easy as well, because the guns despite their metal construction are lightweight and easy to maneuver. The pump action wasn't the ideal functionality for a larger game like the ones you typically play at D14 but I found the experience to appeal to the side of me that likes to be challenged. Much in the same way that I prefer to snipe with a bolt action rifle because of it's downsides to other platforms, the pump on the shotgun required me to be very sure of my shots and make quick split second decisions on whether or not to fire, as this gun does not reload as fast as an M4 or AK and you only have ten shots before you have to reload. The thrill was exhilarating and unlike anything else I had experienced. I don't normally prefer CQB play, which was a big issue for me when trying out the Krytac Vector previously, but this gun made me feel like an unstoppable force. Knowing I didn't have to be particularly precise about my aim, or be concerned that one shot might not register to the hit player quick enough to prevent a kill-trade was very freeing. The noticeable "thump" the gun presented upon firing was often enough to startle enemy players and allow for follow up shots before a room with multiple targets could cut me down, and being able to connect with multiple bb's per trigger pull meant that players knew they were hit immediately. The lower FPS of these guns compared to a semi automatic rifle meant that I wasn't pushing through brush or shrubbery as easily, but that again just meant playing to this guns strengths. Paired with a quality pistol or SMG to take more precise single shots, you could easily cover all your bases. My pistol did come in handy whenever I had more targets than shots available, so I'd highly recommend carrying one as a backup, but I found myself wanting to clear buildings with the shotgun more than my pistol, despite my increased proficiency with the handgun and the much higher shot capacity to engage targets. Maybe it was because it was just a lot more fun to use, because objectively, the pistol was the better option in a lot of ways, but I never found myself crossing the door's threshold and reaching for my holster.
Between the two shotguns we tried, I much preferred the ease reloading and filling gas in field of the TS over the HDS. This could be easily remedied by loading up on extra gas cartridges for the HD/HDS series guns though. My personal preference was to just carry a can of green gas, and dump it directly into the buffer tube on the collapsible stock models like the TS. Reloading the shell was identical on either model. As far as maneuverability goes, it's more a matter of stock preference, as some players may prefer the ergonomics of a full stock and others may like the shorter length of pull of a collapsible stock. Gas efficiency was fantastic on both models and you could get plenty of rounds out off of one fill of gas, regardless of which model you used.
All in all, the JAG Arms Gas Shotguns definitely hit top marks in performance, build quality, and style. While it has a few setbacks, most of these are things that give it character as a shotgun and make it fun and worthwhile to play. Pump action does put you at a disadvantage over semi-auto, but it is that extra level of challenge that makes it so exhilarating. As an experienced player, I find playing with the "perfect gun" to not be fun anymore, and giving myself an intentional hurdle to jump, especially when the trade off is getting to run something out of the usual realm of guns like a shotgun, infinitely more enjoyable. If you've been craving a quality affordable shotgun option that has great performance and makes you feel like a badass then the JAG Arms shotgun needs to be your next purchase!
Want more reviews? Check this out
[Don't forget to Pre-Order the Krytac Kriss Vector below!]
http://www.airsoftgi.com/product/Krytac-Kriss-Vector-SMG-AEG-Airsoft-Gun-Black-30530/
[Airsoft GI]
http://www.airsoftgi.com/index.php
[New Products]
http://www.airsoftgi.com/new_products.php  
[Airsoft Guns]
http://www.airsoftgi.com/Airsoft-Guns-139