TOP 5 BEST AIRSOFT PISTOLS (2019)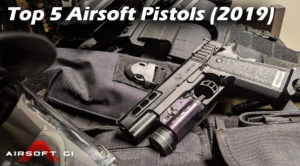 TOP 5 AIRSOFT PISTOLS (2019)
Please note THAT THESE are the opinions of GI Aaron and is being stated to help some of you who may be on the fence about a purchase or two!
All Airsoft Pistols will be linked to our website for you to take a look at for yourself! Thank you and enjoy! 
As an Airsofter I obviously have my preferences and my preference of weapon IS pistol!
Unsurprisingly it was very difficult to narrow it down to my top 5 but I'll give it my best shot starting at the Number Five Spot –
5. Elite Force GLOCK 17 Gen 4 Co2 Gas Blowback Airsoft Pistol
https://www.airsoftgi.com/product/Elite-Force-GLOCK-17-Gen-4-Co2-Gas-Blowback-Airsoft-Pistol-Black-38917/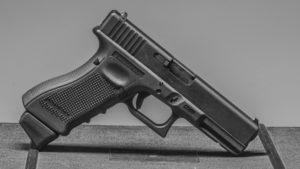 I am a Glock fanatic. (1911 bois, sorry)
I have always been a HUGE fan of the Glock platform and when the Green gas version came out I was ECSTATIC .. but when the Co2 blowback version came out I INSTANTLY bought it.
The green gas version was fun and all but the extra kick and extended baseplate of this one, won me over in an instant. A common misconception with Co2 guns is since it is a high pressure gas compared to green gas, so it's going to shoot hot right? Wrong! At least with this one it will STILL be shooting under 350 FPS, which means it is still usable indoors as a primary or sidearm! It is a very familiar platform with easy to use controls. Everyone knows what a Glock is. Give It a shot! No pun intended. Okay, all pun intended.
Specifications:
Manufacturer: Elite Force
Model: GLOCK 17 GEN4 Gas Pistol Airsoft Gun
Muzzle Velocity: 315-330 FPS
Magazine Capacity: 23+1 rds
Package Includes: Gun, Magazine
Features:
Officially Licensed
Realistic Blowback
Adjustable Hop-Up
Glock Accessory Rail
Glock Sights
Functional Glock Safety
Textured Grip
Polymer Frame
Aluminum Slide
Co2 Power
4. ASG CZ P09 (FDE/BLK/GRY) 
https://www.airsoftgi.com/product/ASG-CZ-P-09-Co2-Airsoft-Pistol-Choose-an-Option-33569/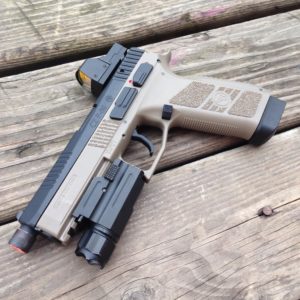 Preeeetty sure this thing won multiple players choice awards and for very good reason!
Highly durable, propellant choice, accuracy, color options, ramen noodle texturing?! This thing h as it all.
No but in all seriousness, I own one of these bad boys and after 3 years of use and abuse the only thing that has broke is my wallet from buying green gas to use it more.
It has the option to shoot below or over 350 FPS by using green gas or Co2 magazine respectively. Being 1:1 scale with the real deal makes it so it WILL fit into hard shell holster fitted for the real deal. It has a low picatinny tail mount for mounting of lasers, lights .. or .. or laser lights. It has a respectable trigger pull with little slack and sports a standard thumb safety. It also comes with threads ON the barrel? Would recommend against suppressors because .. well they're pointless for Airsoft and weigh down your barrel BUT up to you. I think a comp would look better but that is just me. Also .. RAMEN. NOODLE. GRIP. TEXTURING. Just saying.
3. HK45CT Compact GBB Pistol Airsoft Pistol (Black/FDE)
https://www.airsoftgi.com/product/HK45CT-Compact-GBB-Pistol-Airsoft-Pistol-Choose-an-Option-38126/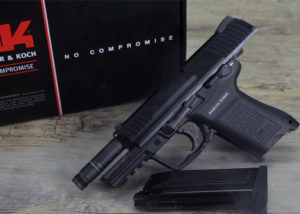 So a new, not so new newer edition to the Gas Blowback pistol game is the EF HK45CT. Part of the HK gun line from elite force, it is my SECOND favorite. You'll see my first favorite here in a bit for now we're talking about this one. The compact, overly expensive handgun is niche in the real steel industry as many prefer the full size HK45, however in the Airsoft industry I prefer the compact. Full metal slide, polymer frame, thumb safety, extended trigger guard, extended baseplate, threaded barrel? It is a small gun but  it is packed with really convenient features! Shooting at around 350 FPS it is a perfect sidearm although I wouldn't hold much light to it being a primary weapon. It looks clean, feels amazing, is lightweight, AND comes in FDE two tone. It is a fun, sexy looking tactical experience that everyone needs to shoot and hold at least once.
Specifications:
Manufacturer: VFC
Model: HK45CT
Muzzle Velocity: 330
Magazine Capacity: 28 rds
Color: Choose an Option
Overall Length: 7.95″
Overall Height: 5.51″
Inner Barrel Length: 105 mm
Inner Barrel Diameter: 6.05 mm
Weight: 1.92 lbs
Package Includes: Gun, Magazine, Spare Back Strap
Features:
3-dot combat sights
Accessory rail
Aluminum alloy slide with polymer frame
Realistic construction & field stripping
2. Tokyo Marui Hi-Capa Gold Match 
https://www.airsoftgi.com/product/Tokyo-Marui-Hi-Capa-5-1-GBB-Airsoft-Pistol-Black-1412/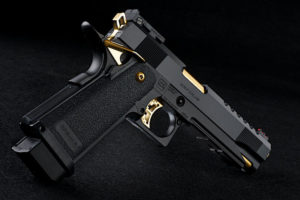 ALRIGHT if you know me at ALL you had to know this was going to be on the list. Surprisingly not at first however.
The TM Hi Capa has been the staple base gun for custom 2011s across the WORLD. Every Airsofter knows of this legendary gun and they either love it or hate it.
I fall on the loving side as I've owned and customized 4 total. All 4 being worth at LEAST $600 .. he says as he cries internally,
This gun CANNOT be too physically abused stock however. It is light weight and smooth shooting due to the high quality plastic it is made out of but in turn, it does make it more susceptible to breaking under high amounts of stress. Just be kind to it until you build it out. The 20+ rd magazine, the smoothness to the action, the reliability of the performance, and the fact that it is the most customizable pistol platform in BOTH real steel and Airsoft nets it the number 2 spot on my list.
Specifications:
Manufacturer: Tokyo Marui
System: Gas Blow Back
Hop Up: Adjustable
Gas Use: HFC 134A
Muzzle Velocity: ~280 fps
Magazine Capacity: 25+1
Package Includes: gun, gun magazine, and manual
Features:
Realistic Field Strip
Adjustable Rear Sight
Double Stack Magazine
Functional Slide Safety
Functional Slide Release
Removable Tactical Rail for Accessories
Functional Grip Safety w/ Beaver Tail
1. H&K VP9 TAC GBB Pistol Airsoft Pistol
https://www.airsoftgi.com/product/HK-VP9-TAC-GBB-Pistol-Airsoft-Pistol-Choose-an-Option-37010/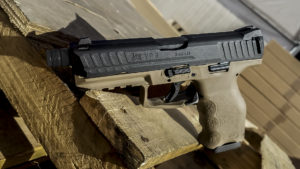 This. Beautiful. Gun. LOOK AT IT! It is undoubtedly the most comfortable pistol I have ever held. I have larger hands and the ergonomics of the gun fit mine perfectly. The back end of the grip rides high allowing for a higher purchase on the gun. Getting your hand just THAT much more in line with the bore making your shots more precise. I love the black and FDE versions of this gun to death and for most other guns with color options, I usually choose one color to stick  with but for this one I got both. It fits some after market Glock parts, so if you would like to Guccify it you can. With that clean extended baseplate, trigger swap, steel ported slide, and RMR plate for your unnecessarily expensive RMR. It sports the paddle magazine release that all tactical people and lefties love. It has nice white dot sights that allow for easy target acquisition. AND it is les expensive than every other pistol on this list!  I love this thing to death and so far it has gone through hell and back with no issues whatsoever. I feel it is an underrated gun and you should get it into your hands without thinking twice about it.
Specifications:
Manufacturer: VFC
Model: VP9 TAC GBB Pistol Airsoft Pistol
Muzzle Velocity: 320-330 FPS
Magazine Capacity: 22 rds
Color: Choose an Option
Package Includes: Gun, Magazine
Warranty Length: 60 Days
Warranty Handler: Umarex (Warranty Policy)
Features:
Officially Licensed H&K Trademarks
Steel Ambidextrous Slide Catch Release Lever
Lower Extended Picatinny MIL-STD-1913 Rail
Actual Effect Loaded-Chamber Indicator
Realistic Color Tone Magazine
1:1 Scale and Detail
Realistic Design
2 Stage Trigger Safety
Blowback Slide
Metal Slide
Polymer Lower Frame
Ambidextrous Magazine Release
Green Gas / Propane Powered