Top 3 Airsoft Gas Blow Back Guns Under $150
Gas Blowback Pistols and Gas Blowback Rifles are some of the most realistic and fun guns you will play with in airsoft. The simulated recoil and having to manipulate the gun as a real firearm. There is nothing like the feeling of having to speed reload when you run out of BBs and enemies are about to breach the room you are in! However, the cost of getting into gas blowback guns can get expensive. I am going to list off three gas blowback airsoft guns you can get started with for under $150!
First on the list is going to be an SMG. The KWA M11A1 is a very under rated gun with range, accuracy, and a high rate of fire. Shooting around 350 FPS, this gun is perfect to take both indoors and outdoors. Small enough to be a sidearm, this gun has the capability of keeping up with the rifles. The included collapsible stock folds flush into the gun, it can be extended to shoulder and get a more accurate shot. If you find yourself in a pinch, this gun shoots +20 BBs per second! This will keep heads down and give you the time you need to get to cover! The KWA M11A1 is retailing for $139.95! You are getting a high quality airsoft gun without breaking the bank!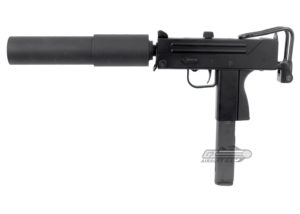 Now I have to start off by saying that this gun is over $150. However, you are getting a great value for the cost of this gun. The Lancer Tactical M4A1 GBBR is a great way to get started in running a dedicated gas blowback rifle. The receivers are made of a very durable polymer and can take a beating. You can replace the standard hand guard with a variety of after market rails. So you can build this gun however you like. Normally gas blowback rifle magazines carry 30-40 rounds. This included magazine carries 55 rounds! Giving you more of a competitive edge! With adjustable hop up and the FPS shooting between 360-390 FPS. This gun is perfect for outdoor game play! The Lancer Tactical M4A1 GBBR retails for $190.00. For a full size gas blowback rifle, you are getting a great value!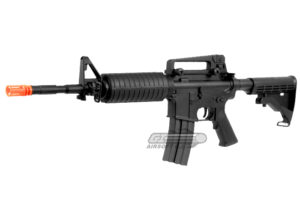 You have probably seen this pistol floating around the airsoft field more than once. The reason is because the Elite Force CO2 1911 is one of the most durable and reliable pistols on the airsoft market! Powered by CO2, you have the convenience of getting CO2 cartridges at sporting good stores. However, this is somewhat of a draw back. You will have to lubricate the gun more frequently to make sure the o-rings and gaskets don't dry out. Maintenance is just like any other gas blowback pistol. You do get more consistent shots and a heavier kick with CO2 compared to green gas. There are also rebuild kits available for this gun and magazine. If you ever find there is an issue, you can repair it with ease. With Elite Force being on their third generation of this pistol. They have worked out all of the small problems that players have reported. I own both the first and second generation models of this pistol.
The first generation was shooting over 350 FPS. Which meant you couldn't use this gun indoors. They fixed this problem in the second generations. The third generations include different colored versions, including all black and a stainless model. So you can choose the pistol that is right for you. The Elite Force 1911 CO2 Pistol retail price start at $99.95-$119.95! I will say that this is one of the best airsoft pistols out of the box!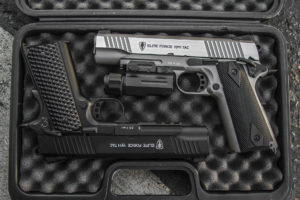 Because my number two pick was over $150, I wanted to make up for it. This bonus pick goes to the KLI Baba Yaga 1911 Hi-Capa. Now the title does say this gun is CO2 powered, but you can use green gas magazines in this pistol. Meaning you can choose what you want to run! There is an FPS increase with CO2, but both gases will be shooting under 350 FPS. Being perfect for both indoor and outdoor use. The kick with CO2 is the most power I have felt out of any gas blowback airsoft pistol, both CO2 and green gas. That is including the Elite Force 1911 I mentioned earlier. KLI has gone through loops to provide the best performing and reliable pistol that they could. The hard work and time that went into this airsoft pistol shows! Having a dual powered pistol gives you options to what you have available. The awesome look and great performance is worth every penny! This gun normally retails for $179.99. However, you can pre-order this gun before 10/20/2019 for $139.99 and get an extra magazine for free! Mind blown!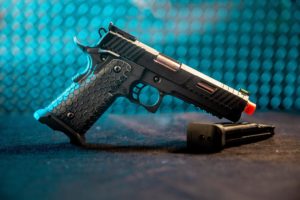 Let me know if there is gas blowback airsoft gun under $150 that you would have listed! There might be a part two if there are some good submissions!