The Best Airsoft Gun Starter Package to get you INTO AIRSOFT!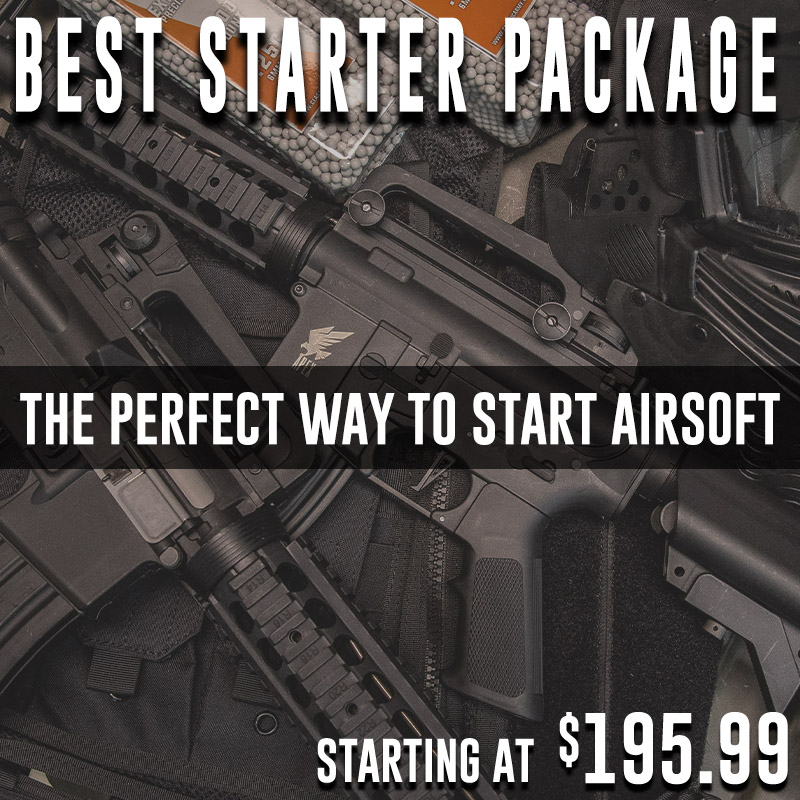 One of the main questions I get as a seasoned Airsoft player, from friends, family, and starters… is HOW do I get into this sport on a BUDGET? I get it, I get it. You're interested but you're not down to drop 5 bills on something you may or may not like! OR you've gone to play with rentals and now you want your own gun! But don't want to spend a crazy amount on a gun and everything else you want to go play! Introducing your best option …
This package includes the Apex Fast Attack RIS M4 Carbine AEG Airsoft Gun (which can be swapped out with a shorter black or tan, or the same but in tan!) which is the ultimate option for lightweight, Airsoft combat. Its polymer body makes it durable and rugged, yet lightweight and easy to maneuver; while its high quality internal parts will keep you on target and scoring hits with ease! The included 9.6v battery and charger make sure that the gun is ready to go when you buy the pack! To protect your eyes and face, we've included a Bravo Full Face Mask with neck protection making sure you have adequate protection for almost every airsoft field as a ton of fields require lower and eye protection at all times. We're also including two extra, high cap flash magazines and two bottles of 2,500 count Classic Army Extreme Precision 0.25g BBs to fill them with! This system makes loading the high capacity magazine much faster and simpler than winding a wheel on the bottom of the mag. Now you'll need somewhere to keep all these goodies and for that we've secured you a Lancer Tactical Crossdraw Vest w/ Holster to make sure you can carry everything in this package onto the field. It will provide some respectable protection with the option to place your mags in a much more convenient spot than your pockets!
The Best Airsoft Gun Starter Package comes with everything at a GREATLY discounted price. It's an insane value to get you on the field and playing. With the equipment in this bundle, you'll have everything you need to not only hit the field and play, but compete with some of the more kitted players on the field. This rifle and kit were selected for their budget-friendliness and solid performance. It gives you an edge on someone with just a budget gun for barely much more of a cost than just the gun. Every part and accessory comes from a leading brand in the airsoft field and has been shown to be effective on the playing field, too. The rifle alone is easily capable of going toe-to-toe with most other AEGs on the market, and has proven durability. When you add in the face mask, magazines, tactical vest and other airsoft starter equipment, you're talking about being prepared for even the toughest matches. Of course, having the right gear is only the first step. Knowing basic airsoft strategy is essential to your on-field success, too. You can check out our Airsoft 101 page for tips and advice whether you're new to the game, or coming back after a long hiatus. Also! We have an Airsoft Glossary of terms and names just in case you hear or see something you're not familiar with! See here! Here is a quick rundown of tips for your first time playing …

Don't step out in the open; use cover to your advantage
Don't engage targets you can't hit. This rifle is at its best in the 100-200 feet range.
Make sure your batteries are charged before the game. Consider picking up a few spares as well to keep you on the field even longer. The average battery lasts for about three to four high capacity magazines. Choose wisely.
Wind your hi-cap magazines before the game starts as well. Nothing is worse than trying to take a critical shot and your gun misfiring while trying to take a critical shot because you forgot to wind your magazine.
Long sleeves, tactical pants (or cargo pants of any kind) and a good pair of boots with ankle support are going to make you much more comfortable.
Water is an absolute necessity. You can keep a small bottle in an empty magazine pouch, or pick up a more dedicated pouch to attach to your vest via the MOLLE webbing.
Keep your gun pointed in the direction you expect the enemy to come from, that split second between seeing the other team and pulling your gun up to shoot can make the difference
If you get shot, call your hits! It's only a game. The walk back to re-spawn is a good time to collect some information on how the rest of the field is changing so you can get the drop on your targets when you get back in the game.
DO NOT be afraid to get hit! It will be no fun to sit in a corner and wait! You are not experiencing the full adrenaline rush that this game gives you! Get. The Hell. Out. There!