GI Tactical's TEXAS WEEKEND!

Our new Texas location is having it's grand opening this weekend on January 10, 2015 but we aren't just gonna have a really fun Saturday, we are making a FULL WEEKEND out of it, and we'd like you to join us!!!
Everyone here at Airsoft GI is incredibly proud that we have become America's first nation-wide Airsoft chain store and if there is one thing we want to do it's to share all of fun and joy of playing airsoft with you, our fans and customers.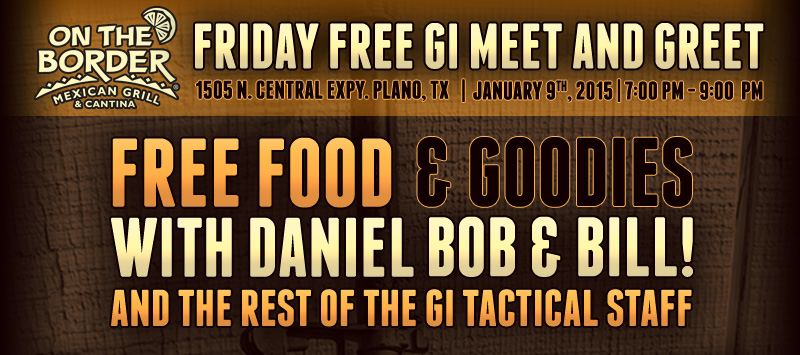 Friday we will be having a meet and great from 7pm-9pm at On the Border | Mexican Cantina & Grill, located at 1505 N. Central Expy. Plano, TX 75075. So join us for a free dinner and a chance to talk shop with Bob, Bill, and Daniel! If you know you want to go, you can RSVP for our meet and greet right HERE: https://www.facebook.com/events/771408119596748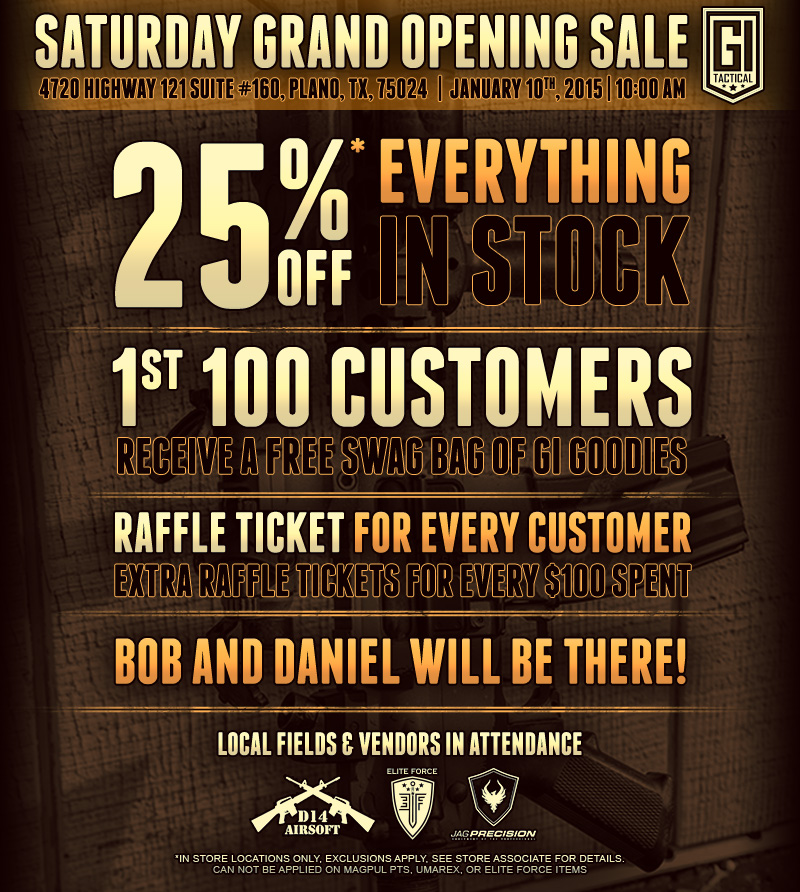 On Saturday, we're having the Grand Opening of our Texas store and it is going to be AWESOME! Our new store is located at 4720 Highway 121 suite #160 Plano, TX 75024 and is currently open Tuesday-Saturday 12pm-8pm. We're going to have a number of vendors and local fields in attendance including D14 Airsoft, Elite Force, and Jag Precision. In addition, the first 100 customers in line will receive a swag bag of goodies and EVERYBODY who shows up will receive a free raffle ticket which is going to be full of a lot of amazing products! Furthermore, our store will have a 25% off discount (exclusions apply) and for every $100 you spend, you will get an additional raffle ticket!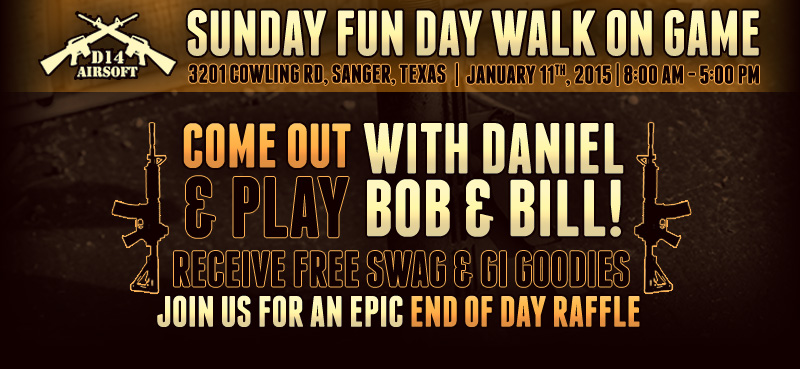 Finally, on Sunday January 11th, Bob, Daniel, & Bill will be heading out to D14 airsoft for fun day of walk-on gameplay. They will have their camera equipment there, so if you've ever wanted to be on GITV you will want to be at the Grand Opening and the Sunday Funday at D14 airsoft! We will also be bringing out quite a bit of swag to pass out at D14 and we will even have an end of the day raffle!

We really hope to see you our there for our Texas weekend because not only are we gonna have a lot of fun, we don't want you to miss out on this awesomeness either!!!