Classic Army Nemesis X9

The Classic Army Nemesis Series has made a huge splash. They came out in late 2016 and have been fighting for the top spot since. With several different options, they offered a variety and performance that was not seen before. Fast forward a bit and they've made a few changes. The Nemesis X9 is the latest iteration of the line. The updates will be spread out to their other models as well. Today, we'll be going over the Classic Army X9 and amazing features.

Full Metal Body
The Nemesis X9 features a full metal receiver. Compared to its closest competitor, the ARP-9, this could be a pro or con. Some people prefer the lighter weight of the polymer. Others prefer the realism of a full metal body. Personally, realism is a big deciding factor in a purchase.
6.03mm TBB
The X9 comes pre-installed with a 6.03mm Tight Bore Barrel. This allows for better range, accuracy, and consistency. The X9 already has an upgraded barrel, it's one less investment you'll have to make.
PDW Stock
The X9, hands down, features the best PDW stock on the market. The comfort level is on par with some of the best stocks out there. What really separates this one from the rest is the battery compartment. It features extremely easy access and huge amounts of space. Fitting a 1300mAh 11.1v LiPo is a breeze with this stock.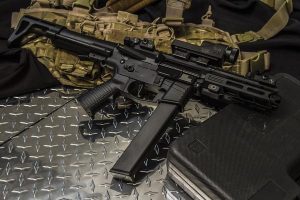 Revised Internals
There were a few changes to the internals that started on the X9. The entire Nemesis line will be updated to these new internals. Now boasting an 18:1 gearset and new Neodymium Magnets in the 31k motor. This gun will be even snappier and have a higher rate of fire than before. The level of performance provided can compete with any AEG on the market.
Not only is the X9 available in black, there's an entire rainbow of colors available! Currently there is Bronze, Gray, Blue, and Red. In addition, there is also a variation with different colored accents. Keeping the X9 fresh compared to a lot of different variations.