Best Choices for Hi Capa Magazine Pouches!
I love the 2011 Hi Capa platform. It is modular, personable, and high preforming. But this article isn't about the gun model, we're talking about its big ol', fat magazines.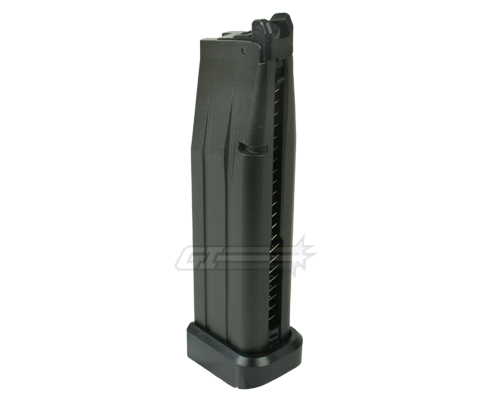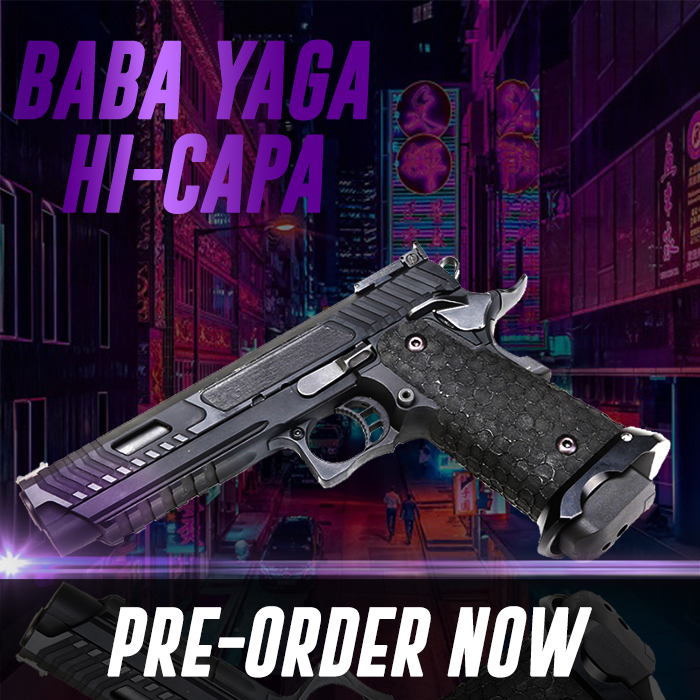 With the introduction of the new KLI HI Capa Series and the Hype Behind the BABA YAGA Hi Capa Airsoft Pistol … I've decided to choose my favorite pouches to hold the fuel to get these guns going!
The Hi Capa, or in the real steel industry, the 2011 has a large capacity magazine! In turn, it makes finding the right pouch for these heavy mags cumbersome. Some people swear on high speed minimalist styles, some swear on full nylon pouches, and some say Kydex is the way to go. Regardless of your choice, I will be listing the best options for you in the mindset of an Airsoft Player. Hi Capa magazines in Airsoft are usually very heavy when full of BBs and Gas and makes it so the wrong magazine choice can mean a drooping battle belt or folding chest rig.
A TIP for if you are running a non supported chest rig like the SpeedQB MOLLE-CULE, be SURE you used stacked mag pouches as pictured here. If you use multiple single pouches, the fabric will fold in on itself from the weight. The stacked design gives the pouches more structure and support.
Again, this list is in no particular order, but I'm sure those of you who are reading this list saw this coming before you even clicked on the link. The HSGI taco pouches have etched themselves into the gun industry AND the Airsoft industry as one of the most reliable and sought after pouches! For good reason too! HSGI HAS A LIFETIME WARRANTY –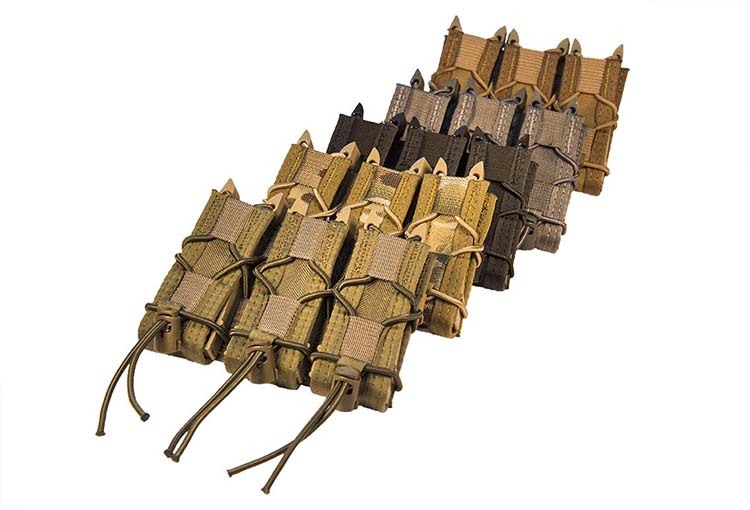 with all their products! Rifle pouches, pistol pouches, magnetic dump pouches, and even giant utility pouches, ALL covered for life! Not that you'd ever need it replaced. With over 3 years of high use and abuse, none of my pouches have torn, gotten loose or broken in any way. I DO take care of them, however even with moderate use in high stress play, they hold up even now! The only problem I see with these are their price point. For a single pistol magazine pouch, it will run you about $27 USD for a standard and $30 for an extended! The price is justifiable to me, however I can see that others may not take a liking to this. You are paying for very high quality, lightweight, and durable magazine pouches. The HSGI leg rig is a great option for someone who doesn't want a crowded belt or carrier. You can find HSGI Tacos for sale on our website or on https://www.highspeedgear.com/
Ah yes, everyone's first love. Remember the day you walked into your first Airsoft store. Saw all the tactical gear and thought "Damn … I'd look so cool."? Then one day you BUY your gear and fill those pouches with your magazines? Yeah? Well chances are, it was a Condor Pistol Magazine Pouch! At least it was for me. These pouches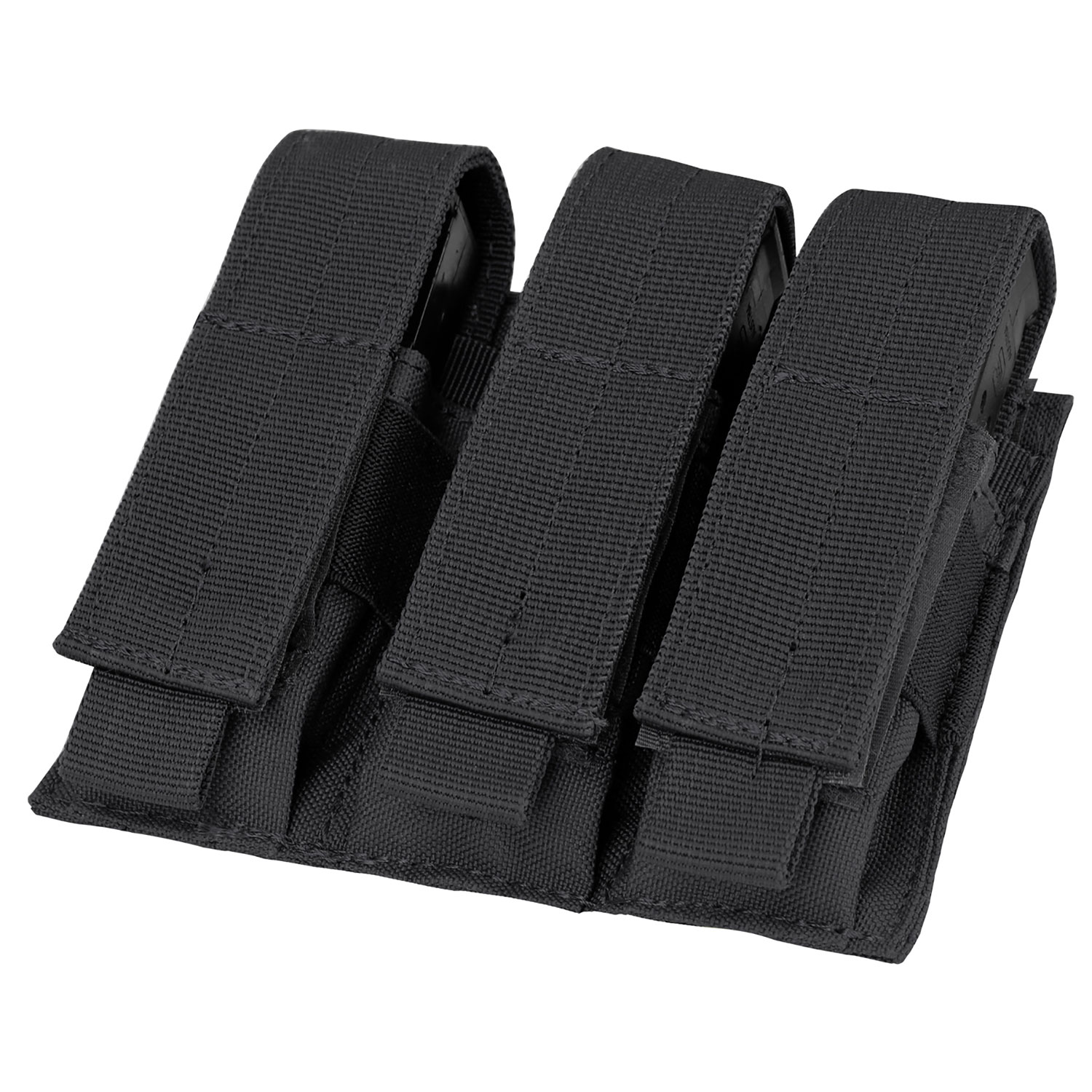 have been and always will be super affordable. I guarantee that you will not see a single day where you play at a local field and NOT see one of these on somebody's kit Usually spotted on newer players, I know of many seasoned players that still run these to this day. Whether they see no reason to buy more expensive ones, or want to keep it for impressionist kit. It is still a very solid option. Keep in mind that you WILL get a quicker draw on the TACO pouches due to their build style compared to these since it is a closed top pouch. Many try to remove the flap completely but I advise against that since it causes a higher chance of you dropping and either losing or breaking a magazine. If you want a high speed style pouch … go for an open top pistol pouch such as the HSGI TACO or the next entry on the list ,,, the Blue Force Gear pistol magazine pouches!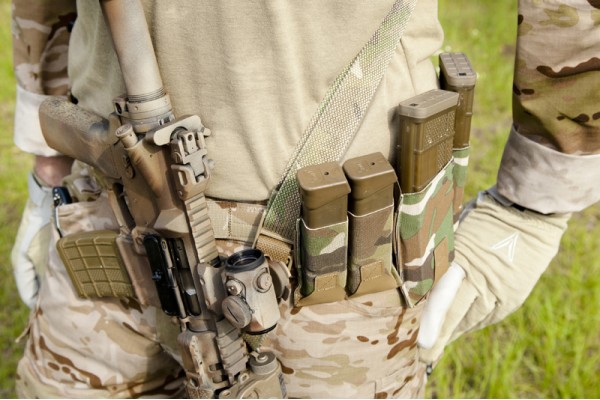 THE BLUE FORCE POUCHES. Some of my favorite gear comes from Blue Force. Vickers sling?! GODLY. Blue Force Chest Rig?! SNUG AS A BUG IN A RUG BEING HUGGED… never saying that again but ANYWAYS. The Blue Force Pouches are some of the best on the market. For Real Steel and for Airsoft. It is an elastic style pouch, meaning its retention is based around it's stretchiness! Inserting the pouch takes a little effort but once they're in there, they ain't moving till you want them too. They compress into a clean little slate of magazines due to it's SUPER minimalistic design. Which makes it's high speed, low drag application even better. They make chest rigs, thigh rigs, single, double, and triple pouches for a vast majority of magazines! They even make H&K 417 Mag Pouches! They come in a vareity of colors and we carry a TON of Blue Force Gear … gear on our website! You can find them here. Just get to them quick because they sell fast!
Oh yeah… LIFETIME WARRANTY TOO!