Airsoft GI's Top Picks for 2019's Airsoft Guns
We have a very close relationship with our replica guns as Airsofters. It's the primary implement we use to interact with each other in the game of airsoft. We get shot by them and shoot each other with them. We shoot targets with them. That's why buying a good one is such an important part of the airsoft experience. While skill will almost always trump performance, there are gaps that having a good gun can lessen, especially while you are still learning the ropes. We here at Airsoft GI have put together a great list below of our favorite guns for 2019.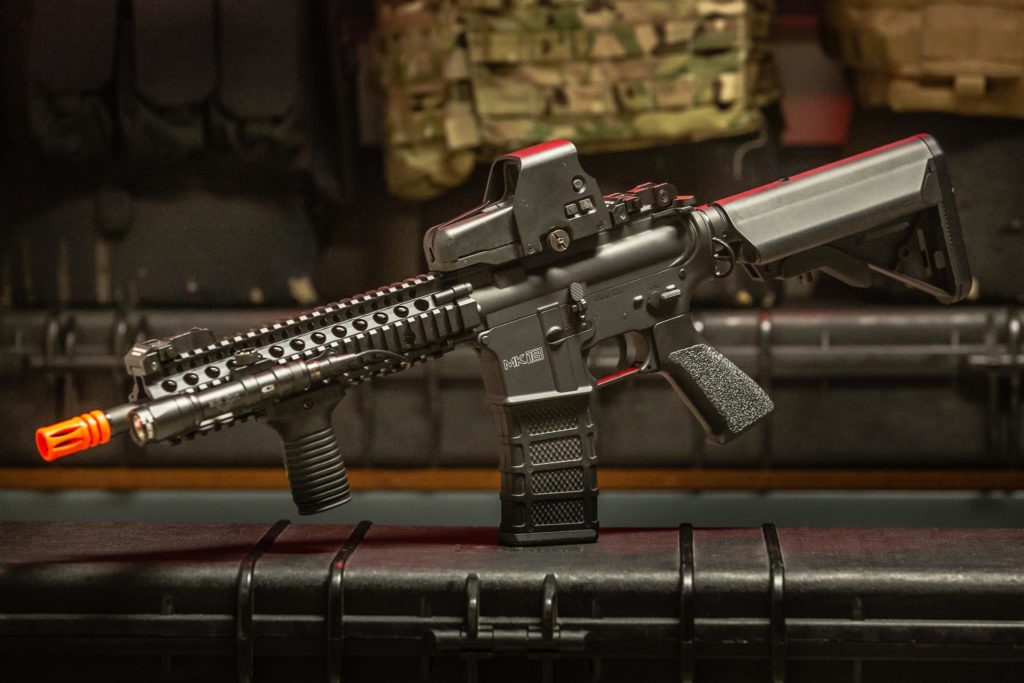 What's in an Airsoft Gun?
What's in a gun often comes down to what type of system it's powered by. Whether you have a gas blow back rifle (GBBR) or an automatic electric gun (AEG) or a new pistol, the systems that power them are all pretty unique. They vary as much as the real steel counterparts they are based on.
What's most important in each case though, is getting the highest quality parts you possibly can inside your new BB Blaster. With Gas Blow Back rifles and pistols, that means that steel parts are the Holy Grail of internal components. While many of the options on the market do not include these parts stock, getting as close as you can is the goal. AEGs are all about metal gearboxes, MOSFETS and neodymium magnet motors; as many of these as you can squeeze into your system is ideal.
Quality over Quantity: Why This Is Important
While it's always important to buy quality guns, it is especially important when you first start out. It becomes imperative that you get something that is going to last. Nothing will kill your good time faster than a jammed BB or a stripped piston. Nothing makes a game more frustrating than when you keep getting shot before your plastic gearbox blaster is even in range of hitting another player. Always make sure you get a gun with metal gears, and if the externals are plastic and not metal, try to get something made of a durable polymer and not a cheap ABS plastic.
Things to look out for
Here are some stats to keep an eye on as you shop for your gun so you know you are getting a quality piece of kit.
Body Style
Arguably this is the first place you should start looking when browsing for an airsoft gun. What is the aesthetic style you'd like to use? Whether you want to go M4 or AK or do something a bit left of the normal trends like a bull pup or a sub machine gun style, you have to make that decision first. This will inform what expectations you can have of the guns as you look at the other stats we have listed below.
Be mindful of where you are planning to play, as shorter guns can dominate in CQB, but longer guns tend to have better opportunity to be accurate over distances seen in outdoor arenas. Think about size and looks as well. Is this gun going to be too large for you? Can you reach all of the controls? If you are left handed, does it accommodate your needs? You should have all of these things in the back of your mind before proceeding.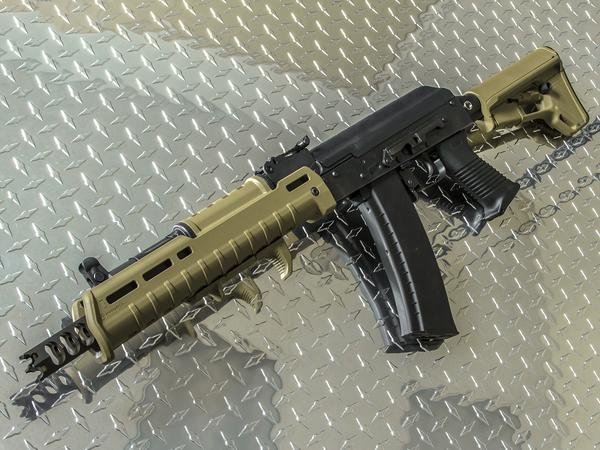 FPS
This is one of the primary statistics used to gauge the usage and performance of an airsoft gun. While there is no "best" FPS for all styles of play, it can be one of the first indicators that a gun is going to meet your play style. FPS determines how fast a BB can get from point A to point B and often is the chief statistic when determining how much a gun hurts, or how likely a player is to feel the hit. There are other factors that play into performance we'll discuss below, but this one is a big one and shouldn't be ignored.
Rate of Fire
Often times, airsoft guns will denote their rate of fire with a Rounds-Per-Second rating (or RPS) to show case how quickly you can dispense rounds in full-auto on a select fire airsoft gun. This shows you how quickly you can spray and pray to your hearts content, and guns built for a higher rate of fire are often built to withstand the abuse. Parts to look for here to see if a gun can put out high RPS are: High speed gears, High speed or very High torque motors, Low FPS builds.
Accuracy
While most places can't tell you exactly how accurate a gun is, due to the many environmental factors that contribute to an accurate shot outside of the rifle's construction, there are definitely parts to keep an eye out for. These parts include: Barrel style or rotary hop-ups, tight bore barrels, and upgraded hop up buckings. All of these parts determine how accurate your gun can be over extreme distances, and many of these are becoming things manufacturers include stock instead of expecting you to upgrade after you buy.
Tighter barrels focus air more tightly behind the bb, allowing for more stable flight. Better hop up units and buckings allow for more finite adjustment and spin on the BB, allowing you to perfectly tune your hop up to the different weights of BB you might be shooting at any given game. Just remember to actually adjust the hop up properly, it doesn't do you any good if it's set wrong.
MOSFETS and Electronic Control Systems
Some guns now even include extra features through the use of a MOSFET or Electronic Control System (sometimes called an ECS or ECU). These are a fantastic addition to a gun, as they can regulate your electrical components for safe usage of higher powered batteries, such as 11.1v LIPOS or give you more options for select fire. Want to turn your full auto mode into a three-round burst? A gun with an ECS usually has that option. Want to push the limits of your rate of fire with huge batteries? A MOSFET unit is a must have for high cycle rate setups.
Rail Systems and Included accessories
This plays a bigger part in the "looking cool" category than performance, but it's an important thing to consider when buying a gun. Can you attach the types of accessories you want to add? Does you gun accommodate a scope or red dot? Can you bolt on that cool laser, flashlight or foregrip?
Many styles exist here, and for airsoft purposes, none are really better or worse, but offer different options for customization. Make sure the one you get is made of a sturdy material like metal or polymer, and that you familiarize yourself with what accessories are on offer. Platforms include standard picatinny which fits most accessories, and then Keymod and MLOK which are two different modular systems that allow you to save weight. These systems can utilize an adapter to attach older picatinny accessories, while also allowing for direct mounting of accessories made for their specific systems.
AIRSOFT GI PICKS FOR TOP 2019 AIRSOFT GUNS
Now you have our criteria we use to measure the quality of a gun. Here's our short-list of notable stand out airsoft guns for 2019. These guns cover a wide range of needs, and give the best value for your dollar, even if that price tag is a bit higher than some people may want to spend up front. These guns will make sure that you get your money's worth.
Classic Army Nemesis GEN2 MK18 M4 Carbine AEG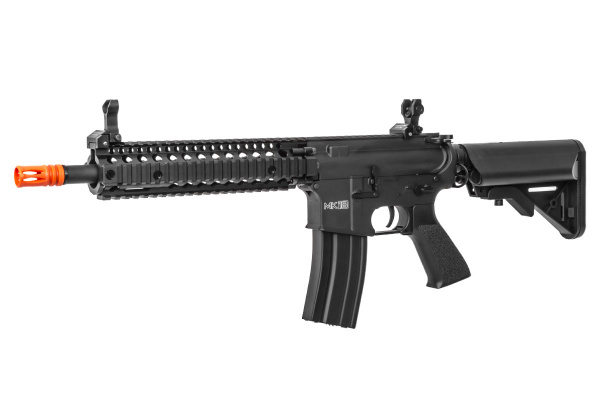 The Nemesis Mk18 by Classic Army easily landed the top M4 of 2019 for us! It is feature rich, with an ECS system to allow for programmability and one of the fastest stock triggers in an AEG. The Mk18 also contains all of the performance parts we look for in an electric rifle. This MILSIM ready blaster has the rotary hop up with a great bucking and tight bore barrel for accuracy while also rocking a torque motor for maximum trigger response. It's a great mid-length rifle that can handle close quarters or long range, it all just depends on how you set it up.
This gun sells for $319.99 and you can snag it here!
Elite Force GLOCK 17 Gen 3 CO2 Gas Blowback Airsoft Pistol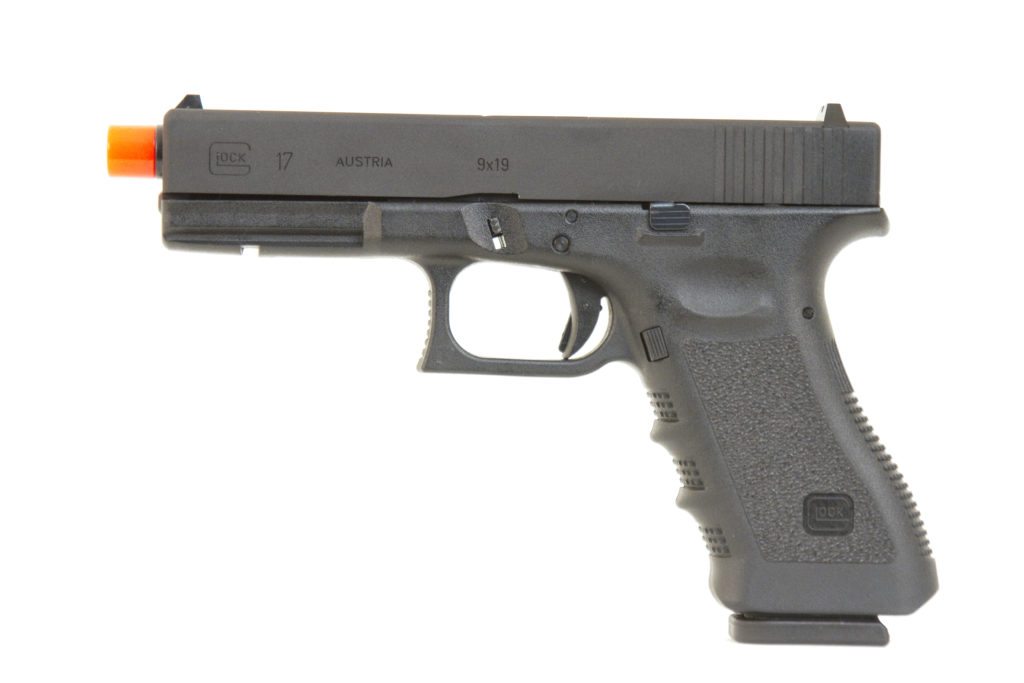 The Glock 17 from Elite Force is an Airsoft Unicorn. It is available in a Green Gas model and now covers two different generations of the pistol as well. These stalwart performers are perfect for players who want a reliable, performance minded pistol with simple controls that is going to work every time you pull the trigger. Coupled that with proper holster compatibility between the airsoft model and the real deal, and you have an option for game play and training that can't be beat.
This gun retails for $169.95 and you can snag it here!
Elite Force H&K MP5-A5 GEN2 AEG Airsoft SMG by VFC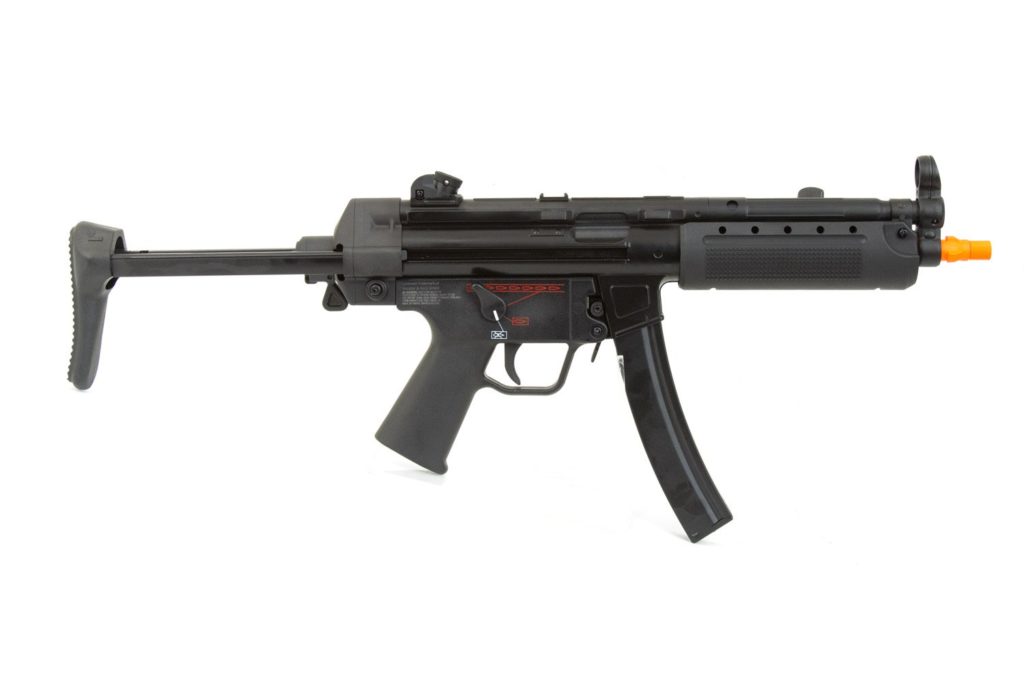 The VFC Avalon system has been around for a little bit now, but it's newest entry comes in the form of an H&K licensed MP5. These compact submachine guns took the stage for us as one of the best new sub-guns of 2019. It features everything that makes an Avalon model great, including a wonderful MOSFET for the most battery options and the same stellar performance the Avalon M4's are already legendary for. High end metal externals seal the deal. If you want a compact CQB blaster, this is a must purchase gun.
This gun retails for $349.95 and you can snag it here!
Modify M24 USR150 Bolt Action Sniper Rifle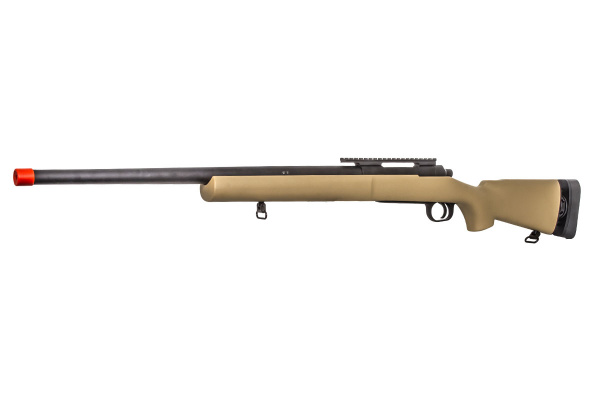 It's hard to find a great out of the box sniper rifle. Often times, you'll end up paying more than you should for a base gun, only to double or triple your expenses on upgrades. The Modify USR150 bucks that trend by being a 100% battle ready rifle out of the box. Simply add a scope and start hunting. This gun clocks in around a whopping 500 FPS which is perfect for most outdoor needs and has an easy to use bolt action system. Skip the headache and pick one of these up if the sniper life is calling your name.
This gun retails for $484.95 and you can snag it here!
LCT Airsoft AK74 AEG Airsoft Rifle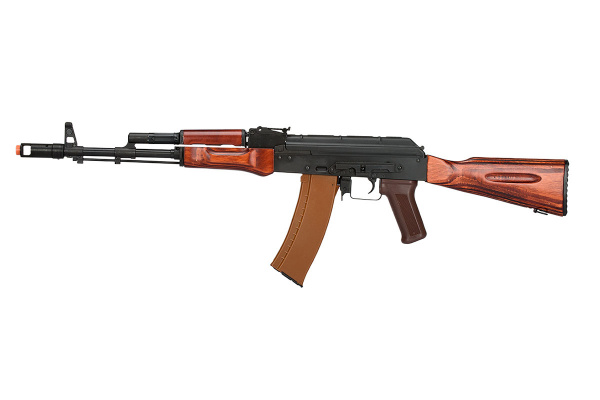 If we're doing a top guns list, we have to include an AK. The LCT AK has been one of the best platforms for RUSFOR guys for a while now, and that didn't change in 2019. The LCT AK74 features a full metal receiver, real wood stock and handguard and the kind of performance you expect of a rifle in this price range. 380-390 FPS out of the box means it's a standout for outdoor play, and as you start to beat up the authentic furniture, the wear only adds to the aesthetic over time, meaning it gets better looking where most guns start to look ragged and busted.
This gun retails for $326 and you can snag it here!
KLI 1911 Baba Yaga Gas Blowback Airsoft Pistol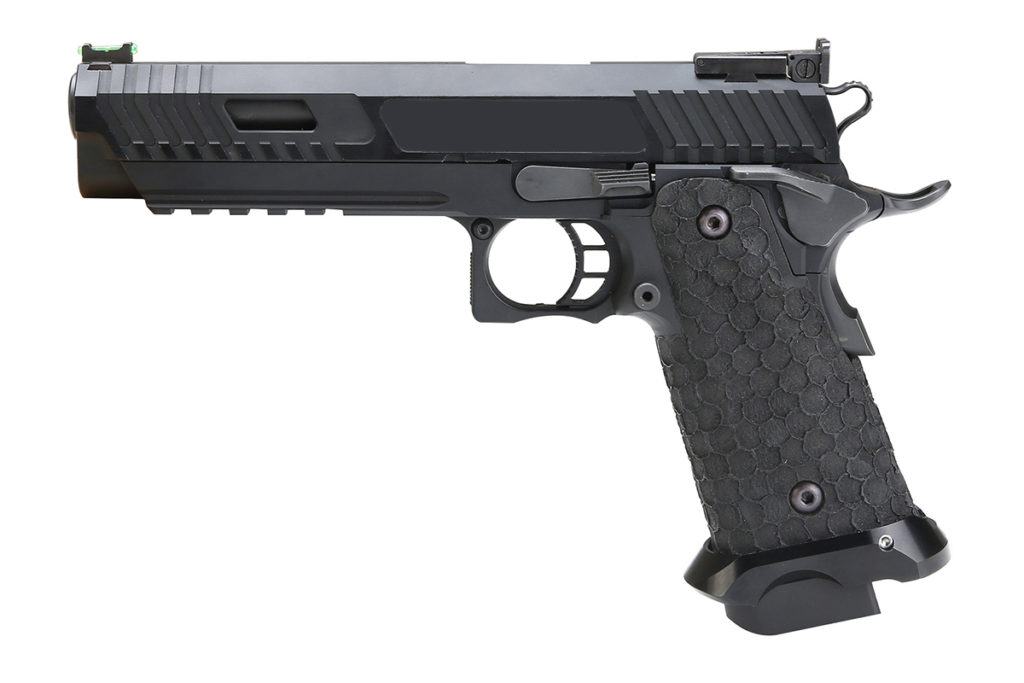 We wanted to include a classic style of pistol on this list and the Baba Yaga by KLI is a new take on classic style. It comes in options for either CO2 or Green Gas and features metal construction and TM compatible parts. With this style of handgun, being able to customize the components for how you play is essential. A textured grip ensures you won't drop the gun as you get a little sweaty playing airsoft, and the flared magwell makes magazine changes a breeze. Couple that with easy to use sights and top of the line performance this pistol is a real winner.
This pistol is $134.99 for the green gas version. Get yours here!
Get out and Play.
These guns all give you the best possible value for your dollar. While other guns meet these criteria, these are some of the big hits for us here at GI. They meet and exceed the standards for what we include in our own collections, and you'll find one, if not multiple of these in the collections of almost every staff member at Airsoft GI. The most important thing is that you get out and play. Pick the gun that fits you best, head out to your local field, and start playing Airsoft!
Want to pick up one of these guns for yourself? You can find all of these and SO MUCH MORE at Airsoft GI!
Want to see some other top picks? Try this article.