We've had some recurring questions recently from people who have come in to check out the Classic Army Nemesis line of guns. Rest assured, the battery tube is deceptively spacious, if you know how to set everything up in advance. We'll walk you through the process, as it does require a particular "ancient secret technique" to battery connection that you may not be aware of.
What is that ancient trick you may ask? Deans Connectors!
For those of you who are a little new to the sport, you may be a bit confused, and that's ok! Deans connectors are the tiny red plugs you'll find standard on classic army guns (though many include an adapter for your typical tamiya plug). The Nemesis guns require this connector to make full advantage of the space inside their rear storage tube. Converting a tamiya plug over to deans is easy enough, with a little bit of soldering knowledge, but a well trained technician (like the ones in our stores) should be more than capable of handling this for you as well!
Once your battery has been converted over it's just a simple matter of how to connect everything together, as you'll get the best results from setting this up in a specific manner. Don't worry, we've got you covered with pictures!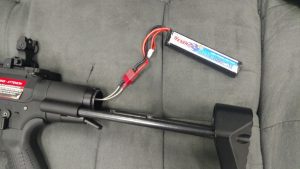 As you can see from the picture above, the red deans connectors are hooked up, and the gun should be able to fire from this point. Remember your Gun Safety procedures (and it doesn't hurt to be wearing eye protection at this point forward, just to be safe).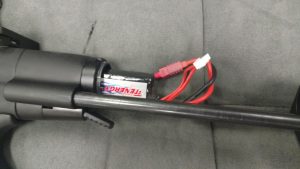 From here, slide the battery into the tube, make sure your plugs lay on the side of the battery, and be mindful of the length of wire connecting everything together. Be careful not to pinch or crimp any wires, and go slow trying to fit the tube onto the threads.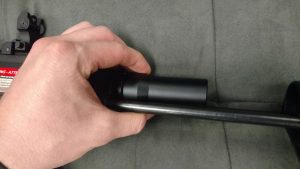 If all steps have been done correctly, you should have a result much like the one above with your battery safely nestled inside the storage tube, and your brand new Nemesis Airsoft Gun ready to sling plastic at your opponents, whoever they may be!
Some other things to consider:
Switching your other guns to deans plugs may also be a wise choice. Keeping all your guns to the same type of connector helps to keep your battery collection a bit more versatile, and additionally, Deans Plugs provide a significantly more stable connection for your electrical current than a Tamiya plug.
Be Mindful of your Gun Safety while installing a battery. Make sure your magazine is removed, and you are not pointing the replica at anything you don't want to get shot. Make sure everyone in the area around you is safe from an accidental discharge as well.
Go Slow. Don't force the cover on. This is usually a sign that something is not lined up right, and forcing the cover on may cause you other more serious issues. If the cover isn't fitting, try to realign the battery and it's wires again following our pictures above. It's easy to get excited when you get a new blaster, but you'll have more fun if you don't break it before you get to shoot it!
---