For those that don't know, the P90 is developed and manufactured by FN Herstal of Belgium. This compact personal defense weapon features a whole load of futuristic features that are still amazing even by today's standards. Firing the 5.7x28mm round, this bullpup designed submachine gun has seen use in multiple combat operations as well as law enforcement roles. Currently in service with over 40 nations, including the United Sates, the P90 features a unique magazine design that few other firearms utilize. The P90 has also been featured in many modern first person shooters, such as Counterstrike, Modern Warfare, Rainbow Six, and Medal of Honor. Many films & TV shows, such as I Robot, Tomorrow Never Dies, Stargate Atlantis, and The Expendables, also feature the P90 due to its futuristic and intimidating design.
As far as airsoft is concerned, there are a few major manufacturers for the FN P90.  The two companies that we want to highlight are Asia Electric Gun, and King Arms. Externally, both are very similar. They feature metal upper RIS units and polymer bodies, just like the run gun. Both are top loaded bullpup submachine guns with their version 6 gearbox located behind the trigger near the buttstock. Fully licensed FN Herstal trademarks adorn both guns.
Internally however, they are some differences, and this is reflected in the pricing. The King Arms variant costs roughly 50 dollars more than the Asia Electric Guns version. Below we will highlight some of the main differences and features of the two.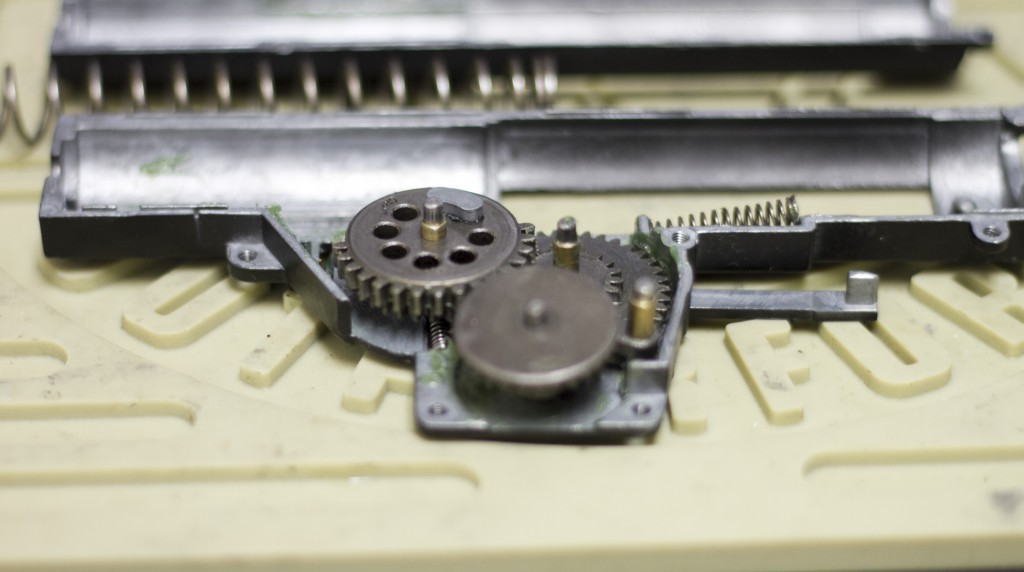 – 7mm Spur & Sector Brass Bushings
– 6mm Bevel Steel Bushings
– Integrated Sector Gear Clip
What does it mean?
The 7mm Spur & Sector Bushings has increased surface space between the rotating axis of the gears and the bushings, which helps with stablization and heat management. Steel bushings are more durable, and will help increase the lifespan of your gearbox. The sector gear clip delays the air nozzle timing in order to better feed BB's for high rate of fire builds.
What does it mean?
The included quick spring change system allows you to change the spring on the gearbox in a matter of minutes. The advantage of this system is that it'll give you maximum versatility for field selection. Instead of needing a separate (sub 350 fps) CQB legal gun and a separate (sub 400 fps) Field legal gun, you can simply swap the springs. The included sector gear clip allows for delayed air nozzle timing for the feeding of high rate of fire builds. The soft rubber bucking also features a V style shape, which puts pressure on the BB at two different points. This helps stabilize the BB's in flight and thus increases effective accuracy.
---